Northeast Battle Map

Battle Map
Northern Early American Forts
New England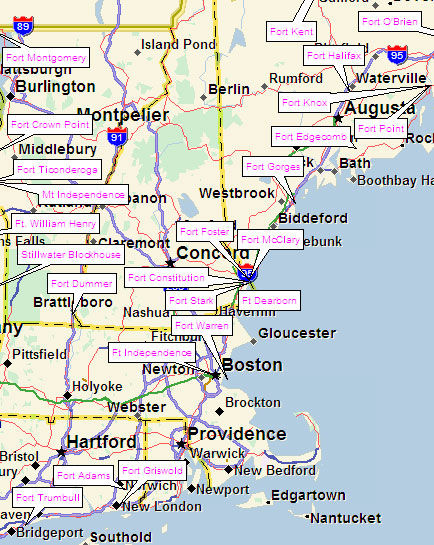 Great Lakes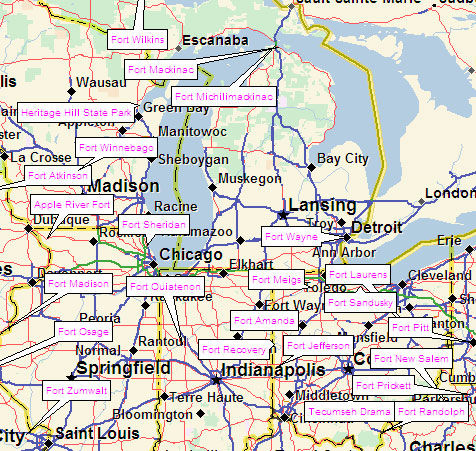 Additional Forts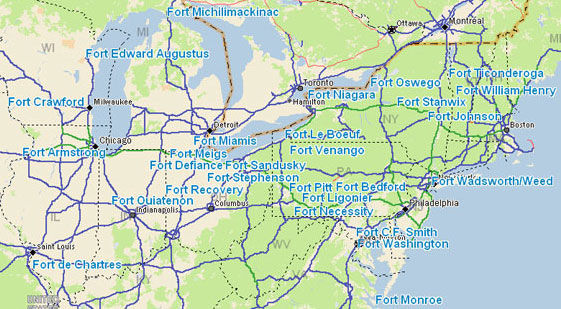 Click on letter to jump to that section. See here for information on Canadian Forts.
A | B | C | D | E | F | G | H | I | J | K | L | M | N | O | P | Q | R | S | T | U | V | W | Y | Z
Destination Thumbnails
(click on picture to get larger view)
Fort Name
State

Adams, Fort RI

Allen, Fort Ethan VT

Photo courtesy of University of Vermont Special Collections
Fort Ethan Allen, located in Colchester, Vermont, has a long and fascinating history. Named after Revolutionary War hero Ethan Allen, the Fort was in active military use from 1894 when it housed the Third Cavalry until 1961 when it was decommissioned. The U.S. Army's Tenth Cavalry Regiment of African American soldiers, the "Buffalo Soldiers," were stationed at Fort Ethan Allen from 1909-1913. As explained on the Historic Fort Ethan Allen web site, "After the harsh years on the Western frontier the Buffalo Soldiers were spoiled by the luxury at Fort Ethan Allen. ... On the frontier the soldiers had grown accustomed to being drilled outside during the dead of winter with buffalo overcoats and blanketed horses to save themselves from exposure. The drill hall was a luxurious part of their stay at Fort Ethan Allen."

Amanda, Fort OH

















Dodge, Fort IA

Dummer, Fort VT



Folle Avoine, Fort WI
For two centuries (l650-1850), Euro-American fur traders and voyageurs canoed, portaged, and mushed across North America's vast tapestry of lakes and rivers, wintering at lonely out posts, living with and learning from Native Americans. During those years, hundreds of fur trading posts served as focal points for intercultural exchange of products, services, and customs. The fur trade was the beginning of white settlement of North America.

Foote, Fort MD


Foster, Fort ME


Gorges, Fort ME




Hill, Fort OH




Kent, Fort ME

Knox, Fort ME








McNair, Fort DC

Meigs, Fort OH

Miamis, Fort OH




Mott, Fort NJ






Osage, Fort MO

Oswego, Fort NY


Pitt, Fort PA

Point, Fort ME






Stark, Fort NH

Stephenson, Fort OH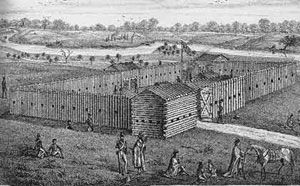 Fort Stephenson Museum
423 Croghan St.
Fremont, Ohio
History
Fort Stephenson was the site of the decisive Battle of Fort Stephenson in 1813. The Fort Stephenson Museum is housed in Birchard Public Library, which sits on the former site of the fort. Artifacts from the battle are on view in five display cases.



Stone Fort at Harper's Ferry MD
Sullivan, Fort NH
The site of Fort Sullivan is on Seavey's Island, part of the Portsmouth Naval Shipyard, near the old water resevoir site. The old Naval Prison, built in 1905 - 08, now occupies the top of the bluff, near where the fort was believed to have been built.



Warren, Fort MA


Wayne, Fort MI

Weed, Fort NY