Part of our in-depth series exploring the forts of Northern Early America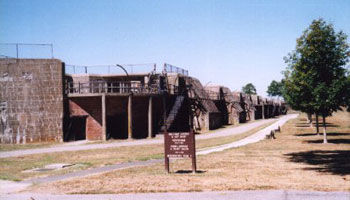 Fort Mott
454 Fort Mott Road
Pennsville, NJ 08070
Phone: 856-935-3218
Fort Mott was part of a three-fort defense system designed for the Delaware River during the post Civil War modernization period. The other two forts in the system were Fort Delaware on Pea Patch Island and Fort DuPont in Delaware City, Delaware. Original plans for Fort Mott specified eleven gun emplacements with twenty guns and a mortar battery with six emplacements. Construction was started in 1872; however, only two of the gun emplacements and two magazines in the mortar battery were completed by 1876 when all work stopped.
Fort Mott, along with Fort Delaware and Fort DuPont, became obsolete as the principal defensive installation on the Delaware River with the construction of Fort Saulsbury, near Milford, Delaware, shortly after World War I.
Troops were regularly stationed at Fort Mott from 1897 to 1922. The federal government maintained a caretaking detachment at the fort from 1922 to 1943. New Jersey acquired the military reservation as a historic site and State park in 1947. The park was opened to the public on June 24, 1951.
Fees
No entrance fee.
Directions
Take I-295 or NJ Turnpike to exit 1 at Pennsville, Route 49 East to Fort Mott Road. Turn right onto Fort Mott Road and travel 3 miles. Park is located on right.
Trails
An easy Nature Interpretive Trail can be found within the Park that is excellent for beginners. The trail is accessible for persons with disabilities.
Picnicking
Fort Mott offers picnic areas, picnic tables and shelters. For larger groups, we also offer the Group Picnic Area. It holds a capacity of 100 people, provides shelter, playfields and playground equipment. It may be reserved for a fee:
$50.00 per day, plus applicable parking fees
Memorial Day weekend through Labor Day
$75.00 per day
Day After Labor Day to Friday Before Memorial Day
50 percent of Fee
Group Picnic Cancellation Fee
Groups of 20 or more people shall reserve picnic facilities at least five days in advance. Such group use is not permitted on Holidays except as authorized by the Superintendent. Reservations for picnic areas are handled by the individual park area offices.
Communities and Related Links