Part of our in-depth series exploring the forts of Northern Early America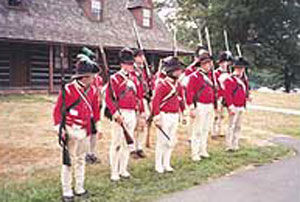 Fort Frederick State Park
11100 Fort Frederick Road
Big Pool, MD 21711
Phone: 301-842-2155
Call 1-888-432-CAMP (2267) for reservations
The site of Maryland's frontier defense during the French and Indian War (1754-1763), the Fort's stone wall and two barracks have been restored to their 1758 appearance. Historic displays are in the Fort, barracks and Visitor Center. The park annually holds military reenactments and other special events. Park lands adjoin the Potomac River and the Chesapeake and Ohio Canal passes through park acreage. Tours are available by request. Daily Living History programming is available from Memorial Day through Labor Day.
The stone fort, named in honor of Maryland's Lord Proprietor, Frederick Calvert, Sixth Lord Baltimore, was erected by Governor Horatio Sharpe in 1756 to protect English settlers from the French and their Indian allies. Fort Frederick was unique because of its large size and strong stone wall. Most other forts of the period were built of wood and earth. The fort served as an important supply base for English campaigns. During 1763, an Ottawa Indian chief named Pontiac forged a massive Indian uprising. Several hundred settlers and militia force sought protection within the fort during this brief uprising.
Fort Frederick saw service again during the American Revolution as a prison for Hessian (German) and British soldiers. In 1791, the State of Maryland sold the fort. For the next 131 years, the fort and surrounding were farmed.
In 1922, the State of Maryland re-purchased the fort. Throughout the 1920's, the State began development of Maryland's first state park. During the Great Depression of the 1930's, a company of the Civilian Conservation Corps was assigned to the park to reconstruct the dilapidated stone wall, perform archaeology with the reconstruction of the enlisted men's barracks stone wall, and locate the foundations of the original interior buildings. Restoration continued in 1975. Future plans include reconstruction of the Officer's Quarters and other defensive works. Pick up a map of the park.
Features
America's premier stone fortification from the French and Indian War, boat launch, boat rental, cross country skiing, camp fire programs, camp sites, camp store, food and beverage, fishing, flat water canoeing, hiking trail, historic interest, picnic, playground, shelters, visitor's center.
The visitor center offers a 10 minute orientation film, "Fort Frederick," upon request. Exhibits highlight aspects of the park's history.
Concession items, including souvenirs and food, are offered at Captain Wort's Sutler Shop. Call the park for shop hours. Canoes and rowboats are rented through the Sutler Shop. Boats can be used on Big Pool only.
Trails
Fort Frederick State Park offers two easy trails for hikers. The Plantation Trail, a 3/4 mile trail for intermediate users, passes through various stands of experimental trees. The trees were planted from 1925 to 1942 to demonstrate the adaptability of various forest plantings to the climate and topography of Western Maryland. The trail is accessible only to hikers. The novice Wetlands Trail, .3 miles in length, passes along a wetlands area behind the campground. Hikers can see several species of turtles, waterfowl, birds, as well as white-tailed deer and other wildlife.
Located just one-half mile west of Fort Frederick is the Western Maryland Rail Trail, a 20-mile long paved path that follows the former Western Maryland Railroad line. The Rails to Trails Conservancy, a non-profit organization, recently chose the Western Maryland Rail Trail as one of the top 12 trails in the United States for viewing fall foliage. The peak foliage season in Western Maryland begins in mid October, and provides an excellent opportunity for picturesque photography along the trail. The Western Maryland Rail Trail can be accessed from I-70, from either exit 12 (Big Pool) or exit 3 (Hancock).
Camping
Camping is available on 29 unimproved sites. The family campground is first come, first served and includes portable toilets only, fire ring and table. Four youth group camp sites are available for organized youth groups, ages 16 and under, who have a youth group pass. For Youth Group reservations, call the park office at 301-842-2155. Inquire for camping season beginning and ending dates, and camping and shelter service charges.
Fort Frederick State Park offers accessible visitors' center, camp store, picnic sites, campsites, shelters, Western Maryland Rail Trail (20 miles paved), and port-a-pot. For additional accessible amenities in Maryland State Forests and Parks, visit the Accessibility For All section of this website.
Location
Fort Frederick State Park is located in the Cumberland Valley, 18 miles west of Hagerstown and one mile south of I-70 near Big Pool (Rt. 56, Exit 12). The park is 88 miles from Baltimore and 81 miles from Washington, D.C.
Communities and Related Links