Part of our in-depth series exploring the forts of Northern Early America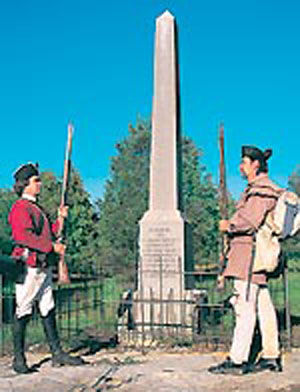 History
The most important Revolutionary War site in Vermont
Atop this rugged promontory along the Vermont shore of Lake Champlain, American Revolutionary War troops built a fort complex A monument marks the spot where a massive fortress once defended the colonies to guard against a British attack from Canada. The troops named it Mount Independence in honor of the Declaration of Independence. This new fort faced north and stood across the lake from the fort at Ticonderoga, which, because of its southerly posture and poor condition, provided little protection from a northern attack. After the unsuccessful American attack on Canada in late 1775, the British intended to counterattack and eventually crush the Revolution by dividing New England from the rest of the colonies.
Under orders from General Philip Schuyler, American troops began clearing land at Mount Independence in June of 1776. By fall, three brigades had established camps of huts and houses. A large shore battery and a horseshoe-shaped battery were completed and a picket fort was under construction. So impressive was the combined sight of Mount Independence and Fort Ticonderoga that British General Guy Carleton quickly retreated to Canada, abandoning an attempted invasion in October 1776.
Many American troops and staff went home that winter, reducing the force from 12,000 to just 2,500. Those remaining were sickly and a number froze to death.
About the Site
Several trails at Mount Independence connect well-preserved remains of the Revolutionary War fortification. The trails pass through nearly three hundred acres of pasture and woodlands with vistas overlooking Lake Champlain and the surrounding countryside.
All trails start at the Visitors Center. Enjoy your visit; we hope you will return often. Mount Independence is jointly owned and managed by the State of Vermont, Division for Historic Preservation and the Fort Ticonderoga Association, a not-for-profit educational institution.
By spring of 1777 new troops arrived but not enough to properly garrison the forts. On July 5th they evacuated the site when British General John Burgoyne's forces overwhelmed the area. They were pursued to Hubbardton where the British were checked in a bloody battle by the American rear guard. The American main force moved on to face General Burgoyne at Bennington and in the Americans' decisive victory at Saratoga a few months later. British and German forces remained at the Mount until November when they burned and destroyed the site after learning of Burgoyne's surrender at Saratoga.
Today, Mount Independence is designated a National Historic Landmark and has been called one of the most interesting and important historic sites in Vermont. Explore the several miles of hiking trails that wind past the batteries, blockhouses, hospital, barracks, and other archaeological remains of this once-bustling fort complex. In the Visitors Center Museum, the story of military life atop the Mount is told in exhibits featuring many of the artifacts recovered during recent archaeological investigations. Cruise the lake aboard the
tour boat M/V Carillon
Complete your trip to Mount Independence with a visit to Fort Ticonderoga. Together these two forts successfully delayed a British invasion from Canada until 1777.
Hours
Open July 1 through mid-October,
Tuesday-Sunday, 10:00 a.m. to 5:00 p.m.
(802) 759-2412 or in season: (802) 948-2000
Email: [email protected]
Admission
Adults $5.00
Children 14 and under, free
Groups (10 or more, reservations required) inquire
Active military and immediate family members are admitted free. Discounted rates are available to groups over a certain size when booked in advance. Green Mountain Passports are available to veterans and senior citizens, which offer a lifetime daily-use pass.
How to Get There
Mount Independence State Historic Site is located 6 miles west of State Route 22A and the village of Orwell. To reach the site, take Route 73 west from Orwell and take the first left turn. This is a paved town road that forks; take the right fork. The road will turn to gravel and go parallel to Lake Champlain. Once again the road will fork; take a sharp left hand turn towards a small marina. The parking lot for the historic site is on the left at the top of the hill.
Communities and Related Links