Part of our in-depth series exploring the forts of Northern Early America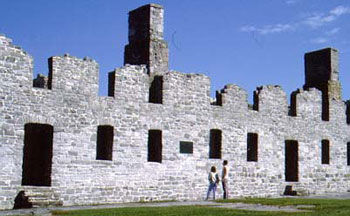 Crown Point State Historic Site
739 Bridge Road
Crown Point, NY 12928
Phone: 518-597-4666
Fax: 518-597-4668
Long before the Revolution, the British and the French both claimed Crown Point in the struggle for a North American empire. Four failed campaigns to oust the French between 1755 and 1758 were mounted by the British. It was not until 1759, however, that the abandoned French Fort St. Frederic was taken over by the British.
The British immediately began construction of "His Majesty's Fort of Crown Point." This extremely ambitious fortification complex contributed to the British conquest of Canada, the last French stronghold, and control of Lake Champlain as a communication highway.
In 1775, at the outbreak of the Revolutionary War, the rebellious colonists captured the fort and secured sorely needed cannons and heavy ordnance. Crown Point was occupied by General John Burgoyne's army in 1777 after the American evacuation to Mount Independence and remained under British control until the end of the war.
The ruins of Fort St. Frederic, "His Majesty's Fort of Crown Point," and surrounding lands were purchased by the State of New York in 1910. Guests can see the ruins of the original 18th-century structures and in the Visitor Center, view exhibits that interpret the French, British, and American chapters of Crown Point's history.
Directions
At the Lake Champlain Bridge, 4 miles east of Rte. 9N and 22.
Seasons/Hours
May to October; the Museum is open Wednesday through Monday (inclusive) from 9:00 a.m. until 5:00 p.m. and the grounds are open until dusk until Columbus Day, otherwise by appointment.
There is a fee charged for admission to the Museum: Adults - $4.00; Senior Citizens (over 62) - $3.00; Children (12 and under) free; non-Profit Buses - $35.00; Commercial Buses - $75.00; group rates available by reservation in advance.
Vehicle Use Fees (weekends and holidays) may apply.
Communities and Related Links