Part of our in-depth series exploring the forts of Northern Early America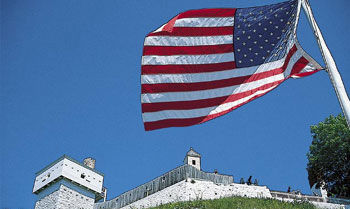 Constructed by British soldiers during the American Revolution, Fort Mackinac served as a sentinel in the Straits of Mackinac for 115 years. Today the original restored fort is a National Historic Landmark.
Park Admission
$13.50 Adults
$8.00 Youth (5-12)
Free - Youth (4 and under) and Mackinac Associate Members
Best family value. Unlimited daily admission to all sites (including Old Mackinac Point Lighthouse when open) for up to two adults and all dependent kids or grandkids under 18. Includes 15% museum store discount and subscription to Curiosities newsletter.
From June 12 to August 22 ticket includes admission to Dr. Beaumont Museum, Benjamin Blacksmith Shop, McGulpin House, Biddle House and Mission Church.
Fort Mackinac Hours (May Vary)
Early May-Early June
9:00 a.m. to 5:00 p.m.
Early June-Early September
9:00 a.m. to 7:00 p.m.
Early September-Early October
9:00 a.m. to 5:00 p.m
Mid October-Late October
11am - 4pm
Communities and Related Links