Part of our in-depth series exploring the forts of Northern Early America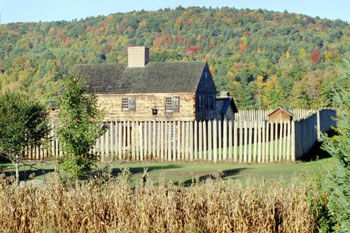 The Fort At No. 4
267 Springfield Road, Rte. 11
P.O. Box 1336
Charlestown, NH 03603
603-826-5700
Phone (Toll-Free in the US): 888-367-8284
Fax: 603-826-3368
E-Mail: [email protected]
Opportunities to learn, participate, and experience frontier life await you at the Fort at No. 4.
This reconstructed fortified village (1744-1760) represents rich encounters with the past through "experiential" education where trained, costumed guides invite you to touch and use authentically reproduced objects and settings. The Fort is a "hands on" museum offering total access to its staff and facilities and the stories they convey.
Located on the shore of the Connecticut River, one mile from Interstate 91, and near Charlestown, New Hampshire, the Fort is open daily from June through October.

The Fort is open daily, Thursday through Monday, June 5th until Oct. 31st.
Hours are 10 a.m. to 4:30 p.m. in the Fort, 10 a.m. to 5 p.m. in the Gift Shop.
Communities and Related Links