Part of our in-depth series exploring the forts of Northern Early America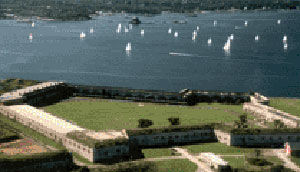 Fort Adams Trust
Eisenhower House
1 Lincoln Drive
Fort Adams State Park
Newport, RI 02840
Phone: (401) 841-0707
E-mail: [email protected]
Make history come alive for every member of your family. Just a short drive or a water taxi ride across Newport Harbor stands the largest coastal fortification in the United States. Visit this engineering and architectural masterpiece to see where the soldiers lived, enter the casemates, explore the tunnel system, and climb the bastions for breathtaking views. Consider renting the Fort with its 6-acre parade field or North lawn on the water for your special function. Watch for our upcoming special events including military reenactments, music festivals, and classic vehicle shows. From 1824 to 1950 Fort Adams housed generations of our soldiers, today it still stands ready for your enjoyment.
Directions
From New York City
Take Interstate Route 95 North to Rhode Island. Take Exit 3 in Wyoming (yes, that's the name of a real place in Rhode Island) and follow Route 138 East/North for approximately 15 miles until it intersects with US Route 1. Take a left onto US Route 1 North and follow Route 1 approximately 5 miles until there is a sign for Route 138 east. Follow Route 138 over the Jamestown - Verrazanno Bridge and continue over the Newport Bridge ($2 toll). (You can see Fort Adams to your right as you are crossing over the Newport Bridge.) Take first exit off of the bridge and take a right onto Farewell Street at the end of the exit ramp. (There will be a Citco gas station on your right.) To Fort Adams proceed south on Farewell Street approximately 1/4 mile to a fork in the road and take the right hand fork onto America's Cup Avenue. Get in the right hand lane. Proceed down America's Cup Avenue, you will pass the Marriott Hotel and Newport's waterfront on your right, until you see a statue of a wave with a pair of feet sticking out of it (We're not making this up). Take a right onto Lower Thames Street. Proceed south on Thames Street approximately 1/2 mile until you see a Shell Station on your left and take a right onto Wellington Avenue. Follow Wellington Avenue (the road will curve to the left after passing the Ida Lewis Yacht Club on your right) to the next intersection and take a right. Follow the road to the next intersection (once again, a curve to the left) and take a right. Proceed approx.. 1/4 mile and look for two large black anchors on your right. This is the entrance to Fort Adams State Park. Take a right. Follow the road to the top of the hill. Continue straight on the road until you enter a large parking lot. At the far end of the lot is a red brick building where the tour office and rest rooms are located. Inquire here as to the next tour time. If tourguide is not present please wait for the next posted tour time unless told that tours are canceled for the day.
From Boston
Take Route 93(AKA, the Southeast Expressway) South to Route 24. Take Route 24 South until it ends in Portsmouth, RI (approximately 55 miles). Take Route 114 South (or Route 138 South if you wind up on it) to the intersection of Valley Road in Middletown, Route 138A. (From Route 114 there will be the Modern Furniture Gallery and the Colonial Ice Cream Parlor on your left. From 138 there will be a Wendy's and a Shell Station on your left.) Take a left on Valley Road. Follow Valley Road south about 2 miles until you are facing the Atlantic Beach Club. Take a right onto Memorial Boulevard (Easton's Beach, AKA, First Beach, will be on your left). Proceed to the light at the intersection of Bellevue Avenue and turn left. Proceed south on Bellevue until you see the sign for Fort Adams and take a right onto Ruggles Avenue. Continue following signs to Fort Adams, which will take you through 2 4-way stops until the road dead ends at Brenton Road. Turn left (good sign here to Fort Adams) and continue to 3-way stop and proceed to bottom of hill to right turn at entrance to Fort Adams State Park. Call the Fort Adams Trust at (401) 841-0707 for tour reservations and other information.
Communites and Related Links