Part of our in-depth series exploring the forts of Northern Early America

Picture of Fort Steuben's Officers Quarters
Fort Steuben
120 South Third Street
Steubenville OH 43952
Phone: 740-283-1787
Fort Steuben is a totally reconstructed 18th century fort on its original site overlooking the Ohio River in Steubenville, Ohio. It was built to protect the government surveyors who were to begin the mammoth task of surveying the newly acquired Northwest Territory. It was only occupied for 8 months, but it served as the Gateway to the West for the fledgling nation.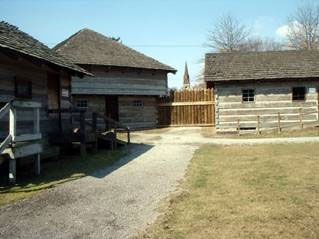 Open May through October, M-Sat, 10-5; Sun, 11-4.
Admission: Members & children under 6: free
Adults: $9
Children 6-12: $5
Group rates available
Fort Steuben Festival – 3rd Weekend in June
The above information was provided courtesy of Judy Bratten, Director of Operations, Old Fort Steuben.
Communities and Related Links