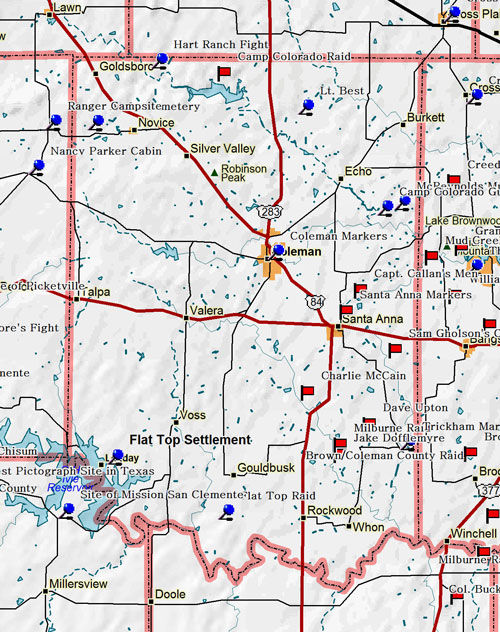 Markers (click on a topic to jump to that section.)
Uncommemorated and Unmapped Sites
Marker Title: Atoka Cemetery
City: Novice
Year Marker Erected: 1996
Marker Location: From Novice take FM 1770 3 miles west. Turn north onto county road and continue about 1 mile to cemetery on the left fork of the road.
Marker Text: Settlement of this area began in the 1850s with the establishment of Camp Colorado, a United States cavalry outpost. At the outbreak of the Civil War the camp was occupied by Texas State Troops and Texas Ranger units. The existence of the camp spurred permanent settlement in the area, and many families moved here from the southern United States after the Civil War. The settlers established farms and ranches, and the Atoka community included a general store operated by D.A. Parker and S.N. Edenborough, a combination church/school building, and a cotton gin built by D.A. Parker. This cemetery was established in 1880 on land deeded by C.E. Bush. Among the early pioneers buried here are the Rev. Hugh Martin Childress, Sr., a former Texas Ranger and Republic of Texas soldier; his son, Elisha Childress, who served as the first Coleman County sheriff; veterans of the Civil War; and several workers killed in an explosion that occurred during the construction of a Santa Fe Railroad bridge across Jim Ned Creek in 1910. The cemetery, which is maintained by an association of descendants of those buried here, is one of the few physical reminders of the Atoka community and its pioneer settlers. (1996)
Marker Title: John R. Banister
City: Santa Anna
Year Marker Erected: 1986
Marker Location: Santa Anna Cemetery on FM 1176, Santa Anna.
Marker Text: (May 24, 1854-Aug. 2, 1918) Missouri native John Banister left home in 1867 and came to Texas. He received training as a cowboy and participated in several cattle drives to northern markets. Banister served with his brother, Will, as a Texas Ranger and participated in the capture of outlaw Sam Bass. Other contributions to the state included his service as a railway officer, inspector for the Cattle Raisers' Association, and Coleman County sheriff. Recorded - 1984
Marker Title: Camp Colorado, C.S.A.
City: Coleman
Year Marker Erected: 1963
Marker Location: City Park on SH 206, north side of Coleman.
Marker Text: Surrendered as U.S. outpost beginning Civil War. Became part frontier defense line from Red River to Rio Grande. Headquarters first Texas Mounted Rifles 1861 and Texas Frontier Regiment 1863. Manned by troops and Rangers in state and C.S.A. service to war's end. Valuable duty performed while patrolling and scouting to curb Indian raids and in rounding up draft evaders, deserters. Camp life difficult with constant peril of Indian attack, shortage food, ammunition, supplies and horses. Located 12 miles northeast. A memorial to Texans who served the Confederacy. Erected by the State of Texas 1963
Marker Title: Camp Colorado Guard House
City: Coleman
Year Marker Erected: 1962
Marker Location: On private property, from Coleman take SH 206 about 5.3 miles; head east on FM 2302 about 6 miles; turn south onto dirt road and continue about 1.6 miles to Camp Colorado site.
Marker Text: --
Marker Title: Ruins of Camp Colorado
City: Coleman vicinity
Year Marker Erected: 1936
Marker Location: From Coleman take SH 206 about 5.3 miles; head east on FM 2302 about 6 miles. Head south on dirt road about 1.6 miles to marker (on private property).
Marker Text: Originally established on the Colorado River by the United States Army as a protection for the frontier against hostile Indians; moved in August, 1856, to this site; abandoned by Federal troops February 26, 1861. The site became the property in 1870 of Henry Sackett (1851-1928), who built his home here in 1879. From here he, with Maltby's Rangers, in 1874, pursued the bands of Big Foot and Jape, Comanche chiefs, and defeated them.
Marker Title: Coleman County
City: Coleman
Year Marker Erected: 1965
Marker Location: 0.6 mi. N on US 84.
Marker Text: In early Texas had Apache, Comanche, Kiowa camps and mountain lookouts. White settlement began at Camp Colorado, U.S. 2nd Cavalry Post on Jim Ned Creek, 1857. County was created Feb. 1, 1858. Named for Robert M. Coleman (1799-1837), a signer of Texas Declaration of Independence and a hero of the Battle of San Jacinto. To south part of county, 1862, came John Chisum, to raise cattle to be furnished to Confederate troops fighting Civil War. County was organized Oct. 6, 1864. Courts first met at Camp Colorado. Coleman was approved as county seat April 28, 1876.
Marker Title: Coleman County Jail
City: Coleman
Year Marker Erected: 1970
Marker Location: On northeast corner of courthouse square, Commerce at Walnut, Coleman.
Marker Text: Second county jail. (First was a small 1879 structure on lawn of courthouse.) Erected in 1890, this building is a good example of Victorian jail architecture with some traces of Romanesque Revival. Belting at ground and second floors a notable detail. Lower floor contains living quarters for the jailer. Upper floor houses both maximum and minimum security cells. Only one person, a convicted murderer, was ever hanged here. Recorded Texas Historic Landmark - 1970
Marker Title: Robert M. Coleman
Year Marker Erected: 1966
Marker Location: Courthouse Square, Commerce at Walnut, Coleman.
Marker Text: (1799-1837) Born in Kentucky. Came to Texas in 1832. Commanded company of volunteers at Siege of Bexar (San Antonio), Dec. 5-10, 1835. Delegate to Constitutional Convention where he signed Texas Declaration of Independence, 1836. Aide-de-camp to Gen. Sam Houston at Battle of San Jacinto, 1836. Later fought Indians as a Texas Ranger. (1966)
Marker Title: Site of Flat Top Settlement
City: Voss vicinity
Year Marker Erected: 1969
Marker Location: 10.8 miles south of Voss on FM 503, 6 miles west on FM 2134, on south side of road.
Marker Text: A frontier center of traffic and communications. First known settler, Richard Coffey, lived here in 1860's, except in weeks when pioneers banded together in Pickettville Fort (NW of here) for protection against Indians. This was on the "Wire Road" -- so named because it followed telegraph line operated by U.S. Army Signal Corps between Fort Concho and Fort Belknap in the 1870's. Also in 1870's, Flat Top was a change station on Fort Concho-Brownwood Stage route. Name of the settlement came from a flat-roof stone building standing here in early days. (1969)
Marker Title: Colonel James E. McCord
City: Coleman
Year Marker Erected: 1963
Marker Location: City Park on SH 206, north side of Coleman.
Marker Text: 1834-1914 South Carolinian. Came to Texas 1853. Surveyor of lands in this region, including the site of Camp Colorado. Texas Ranger. Prominent secessionist. Member Texas State troops at start of Civil War. Lt. Colonel of Texas Frontier Regiment established 1862. Morale was low among these rugged frontiersmen who disliked the discipline and chain of command of army life. Indians had learned the system of regular patrols between posts and slipped through to plunder. Draft evaders and deserters, another threat to peace, were flocking to the frontier and stealing from the settlers. Some Coleman County families stayed near Camp Colorado for safety. In 1863 McCord was unanimously elected colonel in command of the regiment. He operated it as Ranger unit, abolished regular patrols in favor of unexpected scouting expeditions to surprise Indian raiding parties. With these changes, the regiment's effectiveness increased in late 1863 a new frontier defense system was initiated. McCord's Regiment was taken into Confederate service as the 46th Texas Cavalry. With the immediate threat of Union invasion from Louisiana and Arkansas, part of the 46th with McCord leading was sent to East Texas defenses, remaining until war's close. Prominent county pioneer, businessman. Buried Coleman Cemetery. (1963)
During October of 1874, while the Indians were raiding through Coleman County, near old Camp Colorado, one of the cowhands of Sam Gholson, discoveNative Americans about one mile south of the old Bachelor Ranch. The savages were then pursued by J.B. Terrell, James Jackson, John Stephens, James Javens, and two more. They ran the Indians about six miles, and when they reached the Table Mountains, the warriors were in sight, and about one-half mile away. They then ran them about one mile further, and when the Indians were overtaken, a running fight followed. During the fighting, the citizens killed an Indian boy, about nineteen years of age, and another Indian appeared to be wounded. The Indian boy, that was killed, had his horse shot from under him, and attempted to reach another Indian, but failed. J.B. Terrell, according to reports, shot the Indian boy with a needle gun; and afterwards, another fellow rode up and shot the Indian in the head.

Note: Author interviewed: J.B. Terrell, mentioned above; and one or two others.
The above story is from the book, The West Texas Frontier, by Joseph Carroll McConnell.
Marker Title: Old Military Road
City: Santa Anna
Year Marker Erected: 1972
Marker Location: 3 miles east of Santa Anna on US 67/84
Marker Text: Opened in 1850s for supply trains and cavalry travel along line of U.S. forts from Belknap on the Brazos to Fort Mason and to Fort Clark near the Rio Grande. Along this road passed great men, including Col. Robert E. Lee, later (1861-65) general of Confederate forces in the Civil War. (1972)
Marker Title: Santa Anna, C.S.A.
City: Santa Anna
Year Marker Erected: 1965
Marker Location: Next to Santa Anna City Hall, Wallis Avenue, (US 67/84), Santa Anna.
Marker Text: Mountain and town named in honor of man in power here in 1840's, a Comanche chief friendly to Texans. Santa Anna in 1846 visited President Polk in Washington during U.S. negotiations to annex Texas. Also signed and kept until his death of cholera in 1849 peace treaties that allowed the German Emigration Company to settle lands north of the Llano River. Comanches used Santa Anna peaks as signal points. Early surveyors, travelers, explorers and settlers took them as guide points. In 1857, nearby United States Cavalry at Camp Colorado kept lookouts here. In the Civil War, 1861-65, frontier kept lookouts here. At foot of mountain, with sentries on heights watching at the pass the military road from San Antonio northeastward to Fort Belknap, a strategic outpost guarding Texas from invasion by Indians and Federal troops. During the 1870's thousands of longhorns went through the gap, over the western cattle trail. In 1879, "The Gap" had a store and post office to supply the cattle drives. When Gulf, Colorado and Santa Fe built here in 1886, settlers moved from The Gap to the railroad, starting the present town. Quarries in the mountain yield fine sands for the manufacturing of glass. (1965)
Marker Title: Town of Trickham
Year Marker Erected: 1969
Marker Location: Near community center, FM 1176, Trickham.
Marker Text: Oldest town in county; founded about 1855 as a cowboy trading post for ranching activities of cattle baron John Chisum. During 1860-1890, it was a boisterous community at a crossroads of cattle trails. Because of notorious jokes played at local general store, "Trick'em" was suggested for name of post office here. (1969)
Marker Title: Western Trail Marker
City: Coleman
Year Marker Erected: 1925
Marker Location: Courthouse square, Walnut at Commerce.
Marker Text: This tablet commemorates the Western Trail that passed through Coleman in 1867-1895. D.A.R. Seal. Head of longhorn. "Up the Trail". Erected by the Captain Wm. Buckner Chapter of The Daughters of the American Revolution
Marker Title: Mr. and Mrs. W.P. Williams
City: Trickham
Year Marker Erected: 1974
Marker Location: FM 1176, near community center, Trickham.
Marker Text: William Patrick Williams (ca. 1818-1898) and his wife Elizabeth (Boles) (ca. 1822-1899) migrated to Texas from Mississippi during the Civil War. After a brief stay in Cherokee County, they settled in this area, arriving by wagon train. Their nearby homestead became the nucleus of the neighboring rural settlement, the site of an early school they helped establish. The Williamses and their six children survived many hardships, including Indian raids and a smallpox epidemic. William, often called "Mukewater Bill" for a stream near his home, was a pioneer area leader. (1981)
Charlie McCain
During 1872, Bruntz McCain and his son, Charlie, about seventeen years of age, were returning in their wagons to their home on Holmes Creek in Coleman County, about ten miles south of Santa Anna Peak. They saw several Indians coming toward them. Bruntz McCain cut the best horse from the wagon for the son and told him to take a direct route to their residence as fast as the horse could go. Charlie, however, was killed by the Indians about 200 yards from home. Bruntz McCain, the father, mounted the other horse, made a wide circle, and reached home safely.

Note: Author personally interviewed W.W. Hunter, who then lived in that section.
Dave Upton
Sometime during the same year (1870), A.B. Brown was killed, Dave Upton, a brother of Mrs. A.B. Brown, left the home of Ance Waldrop on Home Creek in Coleman County, to notify the citizens in the Trickham Community the Indians were depredating. As he traveled along alone and was within three or four miles of Trickham, Dave Upton was killed by Indians.

Note: Author personally interviewed John Coffee and W.A. Herring, early settlers of that section.
About 1873, Jake Dofflemyre, while out hunting stock alone, was killed by Indians about three miles southwest of Trickham in Coleman County. He was killed about noon but the Indians failed to recover his horse, which ran home. So his wife sent out a searching party to find him. John Fiveash and John R. Beasley were the first to locate Jake Dofflemyre.

Note: Author personally interviewed J.R. Beasley, W.W. Hunter and others.