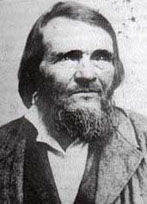 Daniel Parker Sr.
Abram Anglin,
survivor of Parker's
Fort Massacre
Marker Title: Fort Parker
Address: Of FM 1245, in Fort Parker Historical Park
City: Groesbeck
County: Limestone
Year Marker Erected: 1965
Marker Location: Fort Parker Historical Park, off SH 1245 on park rd. 35, N. of Groesbeck.
Marker Text: Built 1834 for protection from Indians. Named for leaders who bought first Predestinarian Baptist church body to Texas: Elder Daniel Parker; his father, Elder John; brothers Jas. W., Benjamin, Silas, John. Also here were Kellogg, Frost, Nixon, Duty and Plummer families on May 18, 1836, raiding Comanches killed Benjamin, John and Silas Parker, Samuel and Robert Frost and others; captured Elizabeth Kellogg, Rachel Plummer and son James, and Silas's children, John and Cynthia Ann in captivity, Cynthia Ann married Chief Peta Nacona; her son, Quanah, was last Comanche Chief. With her baby, Prairie Flower, in 1860 she was captured by Texas Rangers. She, the baby and Quanah are buried at Fort Sill.
Marker Title: Fort Parker Memorial Park
Address: Off FM 1245, in Fort Parker Historical Park.
City: Groesbeck
County: Limestone
Year Marker Erected: 1964
Marker Location: Off FM 1245, on Park Rd. 35, Fort Parker Historical Park, N. of Groesbeck
Marker Text:--
Museum Name: Old Fort Parker State Historic Site
Mailing Address: Rt. 3 Box 746
Street Address: State Park Rd. 35
City: Groesbeck
Zip Code: 76642
Area Code: 254
Phone: 729-5253
County: Limestone
This Texas Ranger fort was built by Major William H. Smith's battalion early in 1837 and commanded by Captain Lee C. Smith as part of the defensive line established by the Republic of Texas against marauding Plains Indians. The fort was named for General James Pinckney Henderson. It was on the upper Navasota River near the present boundaries of Robertson and Leon counties. At that time, this area was deep in Indian country. The fort was difficult to supply and of questionable defensive use. For those reasons the fort was abandoned soon after its construction, probably in the fall of 1837. There are no visible ruins.
Marker Title: Fort Boggy
City: Centerville
County: Leon
Year Marker Erected: 1985
Marker Location: from Centerville, take I-45 south about 5 mi. to rest area on southbound side of highway.
Marker Text: Pioneers who settled in this area bout 1840 included members of the Middleton, Byrns, Staley, Erwin, Jones, Capp, Bloodworth, Philpott, Easton, Howell, and Hinton families. Nearby Kichai and Kickapoo Indian camps afforded these early settlers little sense of security. On February 5, 1840, Christopher C. Staley was ambushed and killed by a group of Indians while out hunting near his home. This incident led to the building of Fort Boggy for the protection and safety of the settlers. Named for its proximity to Boggy Creek, the fort consisted of two blockhouses with eleven dwellings inside an area of about 5000 square feet. A military company, authorized by Texas President Mirabeau B. Lamar, was formed under the leadership of Capt. Thomas Greer to protect the fort. According to one account, 77 people moved into the fort upon its completion. Illness proved to be a major problem for them. In 1841, while leading a scouting party beyond the fort, Captain Greer was killed in an Indian attack. Soon after, the threat of raids lessened, and the need for Fort Boggy no longer was vital. For many years, however, a community church and school retained the name "Boggy." As an early aid in the settlement of this area, Fort Boggy remains significant to the history of Leon County.
Marker Title: Site of Fort Boggy
City: Centerville
County: Leon
Year Marker Erected: 1936
Marker Location: from Centerville, take SH 75 about 4.5 mi. south, marker is to the west, off road, just north of Boggy Creek bridge, in area being developed for future state park.
Marker Text: Here a blockhouse was constructed in 1840 as headquarters for the Boggy and Trinity Rangers commanded by Captain Thomas N.B. Greer. A community retained the name Fort Boggy for a number of years.
In July of 1835, Coleman's Rangers attacked a force of over one hundred Tawakoni's in Limestone County. Coleman later wrote, "We had a severe battle. One fourth of my men was killed and wounded. We took their encampment by charge and the battle ended." They arrived back at Parker's Fort on July 11th.
They departed Parker's Fort in early August and moved northeast toward the Tawakoni Village. Twenty miles over the prairie they came to Post Oak Creek, a tributary to the Trinity River.
The officers were strict about keeping the men in line. From Captain George Barnett's ranger company, Privates Samuel McFall and George Erath darted far ahead of the rest of the volunteers on their horses. It was not, however, by their own choice, as Erath recalled.
"I was riding a young horse which had been caught a colt from the mustangs, that was fiery. When the order came to charge, it darted forward ahead of all the rest, and I found myself alone in the advance. Next came McFall, who was also on a wild horse, too eager for the fray. The officers shouted to us to come back into line, but our efforts to obey were in vain. Our steeds had determined to give us a reputation for bravery which we did not deserve." Erath's daughter recalled that this incident even helped earn her father the nickname "The Flying Dutchman."
The Indians scattered but the Rangers continued the pursuit. Though several Indians were encountered, the only fatality was that Ranger Moses Smith Hornsby was accidentally killed by Ranger William Magill.
Items are taken directly from the book, Savage Frontier, by Stephen L. Moore.