Jermyn Through Finis
Follow 114 east from the site of the Lost Valley Fight. Loving Ranch headquarters is on the left side of the road right before you reach the little community of Jermyn. Turn right on 1191 when you get to Jermyn. There is a good view to your west of Cox Mountain where Sheriff Cox was killed.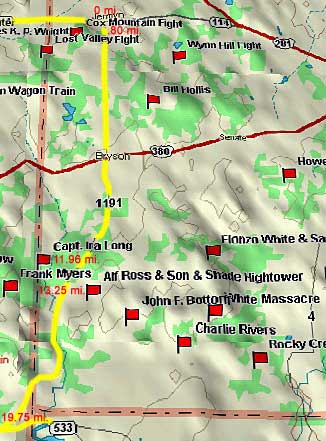 More Stories and Information on Fort Tours Road Trips
My trip continues south on 1191 through Bryson. Like Hwy. 4 out of Jacksboro, the steep decline offers many good views to the south. I have always called it the scenic route and as a teenager, I liked to double date with my buddy, J.B. We would take turns telling the girls gruesome stories about Indian raids on the old cabins that could be seen from the road. One of them (below) has been moved into town and serves as a reminder of just why I began to collect the real frontier stories.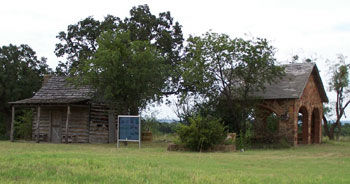 Bryson became an oil boomtown before World War II. It had so many gambling and prostitution joints that there was hardly room for a cafe or a boarding house. The town's refinery contracted Ernest Tubb to play a free outdoor dance every weekend just to make sure the roughnecks and roustabouts stayed in the area.
The Northwest Federal Court, located in Graham, held jurisdiction over much of the Indian Territory and West Texas. Young County remained the center of power until vigilantism flared following the Marlow Brothers jail break. Four of the brothers were recaptured and chained in pairs and transported in a wagon where they were jumped by local citizens. Some accounts say a single Texas Ranger brought peace to Graham as was often the case with these lawmen.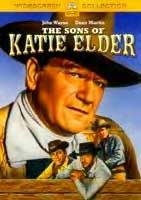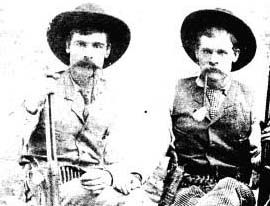 Sons of Katie Elder Movie Poster
Two of the Marlow Brothers
The Finis graveyard, on the southern end of 1191, is the burial place of several of the Marlow Brothers, whose ambush was made famous in another John Wayne movie, The Sons of Katie Elder. A recently published novel, A Pilgrim Shadow by Alan C. Huffines, is based on the event and seems to do an excellent job of bringing to life late nineteenth century Graham.
Take 337 southeast to Graford and continue on 4 south to Palo Pinto.