Prior to his death, Chancy Couch lived on Deer Creek, about six miles north of the present town of Fredonia and near the McCulloch and San Saba County line. Early one morning about 1860, he and Lawrence Hays, his son-in-law, were on their way to cut a bee tree. Mr. Couch decided to walk through the woods while his son-in-law drove the oxen around the road. In due time, Lawrence Hays reached his destination and was ready to remove the honey, but his father-in-law failed to arrive. Search was then made, and Chancy Couch, found where he had been murdered by Indians.

Note: The author personally interviewed Taylor Vanteneer and others who were living in that section of the state at the time.
The above story is from the book, The West Texas Frontier, by Joseph Carroll McConnell.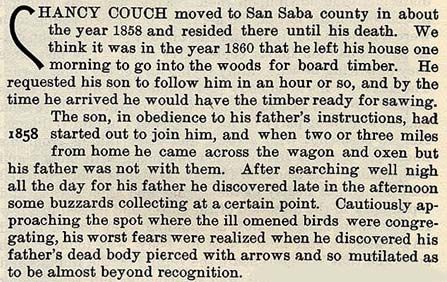 The above story is from Indian Depredations in Texas by J.W. Wilbarger.