The following story is from the book, A Cry Unheard, by Doyle Marshall.
On October 1, 1839, at the present site of Georgetown, all thirteen men of the John Webster party were massacred by a large band of Comanches, but only eleven of the victims lost their scalps. Webster's wife, who, along with her two children, were taken captive, explained why the scalps of two of the victims were not taken. As an eager brave prepared to take the scalp of her slain sixty-five-year-old husband the Comanche chief shouted to him in Spanish, "Blanco; blanco," apparently referring to Webster's white hair. Mrs. Webster took this as an indication that the chief venerated the aged. (But refraining from taking scalps of elderly Texas victims was not generally characteristic of the Plains Indians.) Another warrior was, no doubt, bewildered when he grabbed for the scalp of Webster's slain partner, John Stillwell, and, instead, found a hairpiece fitted on the victim's bald head. Most likely hoping that the wig would qualify as a scalp-thereby earning for him hero status among his band, the perplexed warrior took the questionable trophy along with him. Although captive Dolly Webster later described the scalp dance that she witnessed after having been taken to the Indian camp, she failed to mention the band's reaction to the bizarre "scalp" trophy.
J.W. Wilbarger provides a detailed account of the Webster Massacre in his book Indian Depredations in Texas: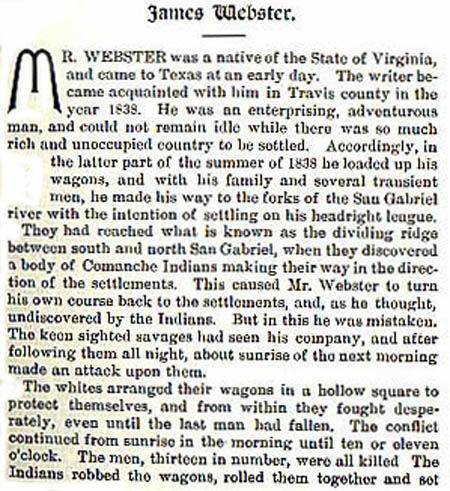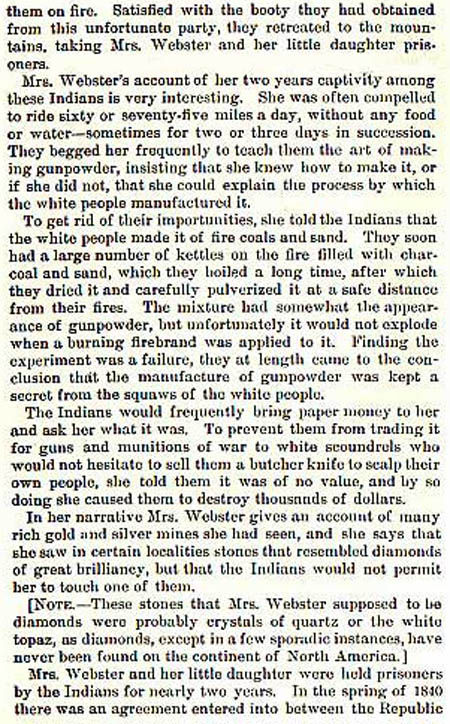 This additional version is provided by Stephen L. Moore from his book, Savage Frontier.