Part of our in-depth series exploring Southern Early American Forts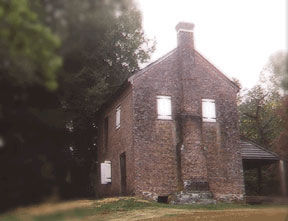 Oconee Station
500 Oconee Station Rd.
Walhalla, SC 29691
(864) 638-0079
This 210-acre park, on Oconee Creek in the foothills of the Appalachian Mountains, contains two historic structures: a stone blockhouse (fort) known as Oconee Station and a two-story brick residence known as the William Richards House.
The blockhouse was constructed around 1792 as one of a chain of such buildings established during a period of tension between white settlers and the Indians. Oconee Station was the last blockhouse to be decommissioned in the state. The troops were removed in 1799.
The brick house at Oconee Station, which sits near the blockhouse, was built in 1805 by William Richards, a native of Ireland. Richards established a successful trading post at Oconee Station. After the death of William Richards, along with the western movement of the frontier, Oconee Station's importance began to decline.
Hours
Office Hours: Call ahead (closed during winter)
Admissions: Free
Historic Structures guided tours are by appointment on Saturday and Sunday (1pm-5pm)
Days and Hours of Operation: Thursday-Sunday 9am-6pm
Location Information
2 1⁄2 miles off SC 11 on Oconee Station Road

Driving Directions: Located on Oconee Station Rd. 2.5 mi. off of Hwy. 11. The site is 10 mi N.E. of the town of Walhalla
Communities and Related Links