Part of our in-depth series exploring Southern Early American Forts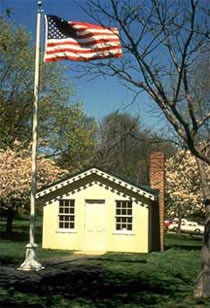 Fort Ward Museum and Historic Site
4301 West Braddock Road
Alexandria, Virginia 22304
Phone: 703-838-4848
Fax: 703-671-7350
Construction of Fort Ward began in July 1861, immediately after the Union Army's defeat at the Battle of First Bull Run (First Manassas). The fort was completed in September 1861 and was named for Commander James H. Ward, the first Union naval officer to die in the Civil War. The initial earthwork fort had a perimeter of 540 yards and emplacements for 24 guns. After the Battle of Second Bull Run, Fort Ward was scheduled for rebuilding beginning in 1863. When the war ended in April 1865, the enlarged fort had a perimeter of 818 yards and emplacements for 36 guns. Throughout the Civil War Fort Ward served as a deterrent and never came under Confederate attack. It was abandoned in December 1865, and salvageable materials were sold at auction.
Museum Hours
Tuesday to Saturday: 10 a.m. to 5 p.m.
Sunday: Noon to 5 p.m.
Monday: Closed
Closed: New Year's Day, Thanksgiving, Christmas.
Office Hours are Tuesday-Saturday 9am to 5pm by appointment.
(Please call for changes regarding weather related conditions.)
Park Hours
Daily: 9 a.m. to sunset.
Admission
Free. Donations welcome.
Communities and Related Links