Part of our in-depth series exploring the forts of Comancheria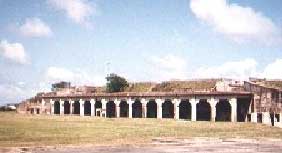 On the western end of Bolivar Peninsula close to the ferry landing is Old Fort Travis. Some of the old concrete bunkers still remain. There is excellent fishing along the rocky shore and picnic areas are available with benches and cooking facilities. Wide grassy areas are invitations to relax and watch the ships in the Bolivar Roads on the way to or from Houston. After a lovely day, watch the sun set over the Gulf. There are cabanas to rent for the night and also camping sites. Cabanas are $20 per night and the camping sites are $15 per night. Restroom facilities are nearby.
Galveston County Parks Department
If you have any questions, feel free to call at (409) 934-8100.
The phone number for reservations, (permit #), is (409) 934-8126.
Communities and Related Links