Part of our in-depth series exploring Southern Early American Forts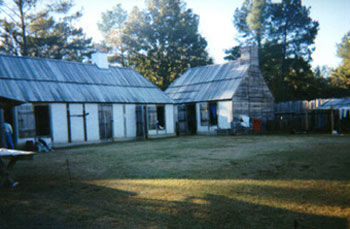 Fort Toulouse
2521 W. Fort Toulouse Rd.
Wetumpka, AL 36093
Phone: 334-567-3002
Fax: 334-514-6625
Nestled at the confluence of the Coosa and Tallapoosa Rivers, Fort Toulouse - Fort Jackson State Historic Site has been a part of more than 6000 years of history. The Park is open year-round for the public's enjoyment where you can step back in time wandering through the French and American Forts or walking to the Mississippian Mound site. You may choose to visit the William Bartram Nature Trail, named for the famed 18th century botanist. The trail winds through the southern edge of the park to the Tallapoosa River. Almost every month includes a weekend of living history by the French Marines at Fort Toulouse along with a weekend of living history by the Tennessee Militia and the U.S. Army Regulars at Fort Jackson. One weekend a month is also set aside for historic black-smithing. There are special events throughout the year such as Frontier Days in the Fall and the French and Indian Encampment in the Spring. The Park also boasts of a 39-site campground overlooking the Coosa River. Each site includes electric and water hook up, a grill, and a picnic table. There is a centrally located shower and bath house and a refuse facility at the campground entrance.
Gate Open
Sunrise to Sunset
Visitor Center Open
8 a.m. to 5 p.m.
Camping Fees
$14.00 for an RV; $11.00 for Seniors (62+)
$11.00 for tents.
Group Tent sites available by reservation.
Communities and Related Links