Part of our in-depth series exploring Southern Early American Forts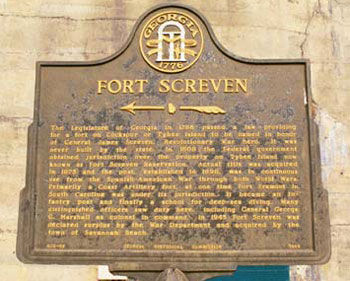 Fort Screven (in Georgia) figured often in the the history of Fort Fremont (Beaufort County, SC, completed in 1899), as a nearby installation in the system of coastal fortification.
Fort Screven is on Tybee Island (18 miles southeast of Savannah in Chatham County, Georgia) was established on March 18, 1898, though construction was not completed until 1901. Its original name, Camp Graham, was changed in honor of James Screven. Screven was a Georgia Militia brigadier general who was killed at Midway Church in 1778, during the Revolutionary war. The Georgia Legislature had passed a law in 1786 providing for a fort to be named in honor of General Screven, but the fortification was never built. In 1808, however, the Federal government obtained jurisdiction over the property on Tybee Island that would become Fort Screven. Actual title was acquired in 1875, and the fort -- armed with 20 guns -- was active in the Spanish-American War and both World Wars.
The installation was also a base of recovery operations following the fire of 1907 that destroyed much of the town of Beaufort.
Fort Screven was the headquarters of Savannah's coastal defense until February 27, 1924, but later became an artillery post and, finally, a deep-sea diving school. Fort Fremont Island was once under Fort Screven's jurisdiction.
The War Department declared Fort Screven surplus on October 21, 1944, after which the Town of Savannah Beach acquired the property.
General George Catlett Marshall (1880-1959) once served a colonel at Fort Screven. General Marshall was Chief of Staff, U.S. Army (1939-1945), Secretary of State (1947-1949) and U.S. Secretary of State (1950-1951). In 1947, he initiated the Marshall Plan (European Recovery Program) and received the Nobel Peace Prize in 1953.
Communities and Related Links