Part of our in-depth series exploring Southern Early American Forts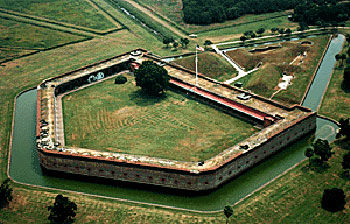 Fort Pulaski National Monument
P.O. Box 30757
Savannah, GA 31410-0757
Phone: 912-786-5787
When completed in 1847 with its 25 million bricks and walls 7.5 feet thick, Fort Pulaski was the ultimate defense system of its day. Part of a series of forts which protected major seaports from foreign attack, the stronghold would not be tested until the Civil War. Seized by Georgia state troops early in the war, the fort was besieged by Federal forces. Here on April 11, 1862, defense strategy changed worldwide when Union rifled cannon, firing from more than a mile away on Tybee Island, first over came a masonry fortification.
The effectiveness of rifled artillery, which fired a bullet-shaped projectile with great accuracy at long range, was clearly demonstrated. After only 30 hours of bombardment, the walls were breached and the Confederates surrendered. The fall of Fort Pulaski tightened the Union blockade of southern ports and kept Savannah from exporting cotton and importing military supplies and civilian goods so vital to the Confederacy. But more importantly, the success of the new weapon marked the end of the era of masonry fortifications.
The commander of the Union forces captured the military world's surprise in these words... "The result of this bombardment must cause...a change in the construction of fortifications as radical as that foreshadowed in naval architecture by the conflict between the Monitor and Merrimac. No works of stone or brick can resist the impact of rifled artillery of heavy caliber." Major General David Hunter, U.S. Army.
How To Get There
To visit Fort Pulaski National Monument, follow U.S. 80 East toward Tybee Island. The Monument entrance is located approximately 15 miles east of Savannah.
Features
The monument offers an introductory video, exhibits and a bookstore. Park Rangers are on duty to answer your questions.
The fort is a remarkable well-preserved example of 19th century military architecture. Located a the mouth of the Savannah River, Fort Pulaski provides views of the Atlantic Ocean as well as scenic salt marshes which cover much of the Monument's 5600 acres. Audiostations within the fort offer brief explanations of the history and significance of the area. At certain times of the year, special programs are conducted.
The monument also provides other recreational opportunities. Nature trails, a picnic area and a boat launching ramp are available. Most facilities are accessible. Please inquire at the visitor center.
Hours of Operation
Visitor Center/Grounds 9:00 a.m. - 5:00 p.m. daily
Historic Fort Pulaski 9:00 a.m. - 4:45 p.m. daily
The site is closed on New Year's Day, Christmas, and Thanksgiving.
Admission
Individual Fees
$ 10.00 - 7 Days
16 years of age and older
Annual pass $35
Details
Local residents can enjoy the natural and cultural resources of the Park all year long. The Fort Pulaski National Monument pass at $10.00 is the best deal around.
Communities and Related Links