Part of our in-depth series exploring Southern Early American Forts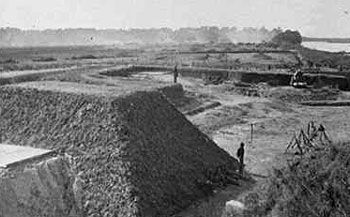 Fort McAllister Historic State Park
3894 Fort McAllister Road
Richmond Hill, Georgia 31324
Phone: 912-727-2339
Located on the south bank of the Ogeechee River, east of Richmond Hill, Fort McAllister State Park is the home of the best preserved earthwork fortification of the Confederacy. The earthworks and bombproofs withstood bombardments by heavy Union naval guns and have been restored to their 1863-64 appearance.
A museum offers many Civil War artifacts, including the famed Confederate blockade-runner, Nashville, destroyed in 1863 by the monitor Montauk in the Ogeechee River above the fortification.
Visitation
Highest in June, July, August, and September. Lowest in November, December, and January.
Operating Hours, Seasons
Park hours: 7 a.m. to 10 p.m.; office hours: 8 a.m. to 5 p.m.; historic site hours: 8 a.m. to 5 p.m.; including Sunday but excluding federal holidays, Thanksgiving and Christmas.
Climate, Recommended Clothing
Hot and humid summers, mild winters. From mid-May to mid-June, deer flies are very bad.
Directions
Fort McAllister is located 10 miles east of I-95 on GA. Spur 144. Take exit 15 to Highway 144 east through Richmond Hill. Drive approximately six miles and turn left onto Spur 144. Spur ends at park entrance.
Transportation
To Park: Fort McAllister is located 10 miles east of I-95 on GA. Spur 144. In Park: Walking short distances. There is a parking charge of $5.
Fees, Cost, Rates
Adult $9.00, senior (65+) $8.00 child (ages 6-17) $5.00, 5 years and under free. Group rates (15 or more), inquire.
Accessibility
Fort is not accessible. Museum is accessible. Two campsites and restroom facility are accessible.
Recommended Activities/Park Use
Visiting museum and Fort McAllister, fishing (dock on Ogeechee River), and picnicking.
Communities and Related Links