Part of our in-depth series exploring Southern Early American Forts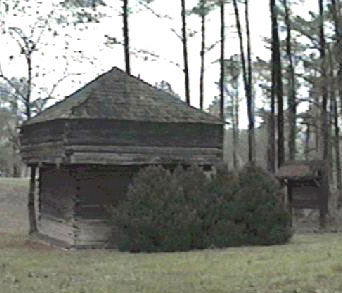 The last surviving blockhouse of Fort Morrow (locally known as Fort Marr), a removal era military post built on the old Federal Road near the Conasauga River, now stands on the southern outskirts of Benton, Tennessee, next to the Polk County jail on the east side of U.S. Highway 411. This cantilevered, hewn-log building is the last physical vestige of the forts that state and federal troops occupied during the infamous Cherokee removal of 1838. The blockhouse originally stood at Old Fort, Tennessee, where it was constructed in 1814 to serve as a supply depot for Tennessee troops serving in Jackson's Creek War campaigns. This long-abandoned post was re-garrisoned in 1837 by troops preparing for the forced Cherokee removal. Initially designated Camp Lindsay, the post was rechristened Fort Morrow after the addition of three blockhouses and a palisade enclosure. By May, 1838, the fort housed one mounted company and two infantry companies under the command of Captain John Morrow. These troops were assigned the duty of collecting Cherokees from communities in the Tennessee mountains and the eastern edge of the Tennessee Valley, then transporting the Cherokee prisoners to the internment camps at Fort Cass where they would await deportation.
After the 1838 removal, Fort Morrow and its grounds passed into private ownership. The fort buildings gradually deteriorated until the single blockhouse remained, used as a chicken house. In 1922, the owners donated the old blockhouse to Polk County; it was moved twice before reaching its present location in Benton. Today, visitors to the blockhouse will find only this inconspicuous structural remnant as the sole physical reminder of the military operation that swept the Cherokee Nation from eastern Tennessee.
Communities and Related Links