Part of our in-depth series exploring the forts of Apacheria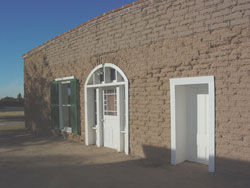 Fort Lowell Museum
Public Park and Museum
2900 N. Craycroft Road
Tucson, AZ 85712
Phone: 520-885-3832
Camp Lowell was first established in 1866 on the outskirts of Tucson. Due to unhealthy conditions of the city the army moved the post 7 mile northeast and established Fort Lowell in March, 1873.
The role of Fort Lowell encompassed escorting wagon trains, protection of settlers, guarding supplies, patrolling the border and conducting offensive operations against the Western and Chiricahua Apache Indians. Troop strength at Fort Lowell averaged 130 officers and 239 enlisted men. Serving at Fort Lowell were companies representing the 2nd, 4th 5th and 6th Cavalry Regiments, and the 1st, 8th, and 12th Infantry Regiments.
With the end of the Apache wars the army saw no further need for Fort Lowell and in 1891 the post was abandoned. Since 1963 the Arizona Historical Society has operated a branch Museum at the Fort Lowell Historic Site.
Hours
The Museum is open Tuesday through Saturday, 10:00 a.m. to 4:00 p.m. On the first Saturday of each month the museum is free (call ahead).
Admission
Under 6 yrs and AHS members Free
Youth (7-13) $5
Students 14+ and Seniors 65+ yrs $8.00
Adults $10.00
Communities and Related Links