Part of our in-depth series exploring Southern Early American Forts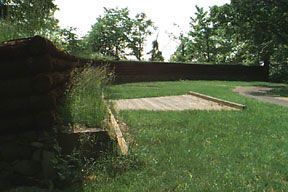 Fort Lee Historic Park
Hudson Terrace
Fort Lee, NJ 07024
Phone: 201-461 1776
Selected as a site to help defend New York and the Hudson Valley against the onslaught of the British during the Revolution, Fort Lee Historic Park today stands as a monument to those who battled for independence.
The Visitors' Center provides information on the role of Fort Lee in the War. Audio-visual displays, detailed exhibits, and a short film present the story of how General George Washington was forced to evacuate the area in November of 1776 and begin his famous retreat through New Jersey during the winter of 1776-77.
Throughout the year, the Park offers many cultural, historical, environmental, educational and recreational programs to be enjoyed by individuals, families, and groups. On weekends in summer, weather and time permitting, visitors can enjoy Demonstrations of 18th century lifestyles, including the life of the soldier.
From September through December, and March through June, School Groups can participate in an extensive program that provides the experience of living in an 18th Century Military Camp. This program lasts 5 hours and includes, a film on Fort Lee, guided tour of the Visitors' Center, candle-making and casting mini-balls, setting up camp, cooking (and eating) an 18th century meal, military drills, tour of gun batteries, musketry demonstration, and many other activities that, combined, impart a thorough understanding of life in Revolutionary times.
This is a comprehensive program, and it is unique. Highly recommended for all elementary school children. A pre-program visit to the Park by the teacher in charge is required.
As a side-benefit, the view from Fort Lee Park is spectacular, overlooking the George Washington Bridge and the Hudson River.
Hours
Historic Park grounds are open daily, sunrise to sunset.
Visitor Center hours vary so please call ahead. Closed January and February.
Admission
Parking fee is charged when Center is open.
School Programs, $3.00 per person, minimum $45.00, payable on arrival.
Reservations
At least 8 weeks in advance.
Lunch
Facilities only for reserved School Groups taking a program.
Handicapped
Main floor accessible.
Directions
George Washington Bridge (westbound), upper level, to first Fort Lee exit. Bear right and proceed down ramp to light. Turn right. Entrance is 50 feet south of next light.
Communities and Related Links