Part of our in-depth series exploring Southern Early American Forts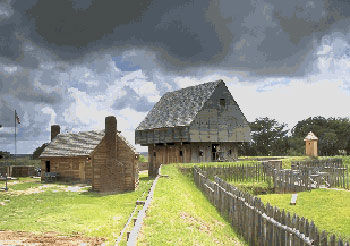 Fort King George
P.O. Box 711
Darien, Ga 31305
Phone: 912-437-4770
Fort King George, Georgia's first colonial British garrison, is located at the mouth of the Altamaha River and contains the brick ruins of an early sawmill operation and a small graveyard. Established in 1721 to resist the expansion of French and Spanish interests, the fort was, at that time, the southernmost outpost of the British Empire in North America. The fort was destroyed by fire in 1726 and rebuilt the following year. The surviving portions of the first sawmill are significant and offer rare examples of early colonial industry in Georgia. A museum interprets the history of the area, including the early occupation of the site by the Guale Indians. The site also includes an authentic reconstructed frontier blockhouse which provides visitors excellent views over the marshes of the Altamaha River.
Visitation
Highest in March, April, October, November; lowest in January.
Operating Hours, Seasons
Tuesday - Saturday 9 a.m. to 5 p.m.; Sunday 2 p.m. to 5:30 p.m.; closed Monday (except legal holidays). Closed Tuesday when open Monday.
Climate, Recommended Clothing
Summers are hot and humid. Winters are mild and normally pleasant. Recommend light clothing April to November. Insect repellent recommended in spring, summer and fall.
Directions
Fort King George is located 1-1⁄2 miles east of U.S. 17 in Darien, Ga. From I-95, get off at exit 10 and head south on U.S. 17 for approximately 3 miles into downtown Darien. Follow signs to the park.
Transportation
In Park: Personal vehicles, bicycles, bike trail and rack.
Fees, Costs, Rates
Adult $2.00, child (ages 6- 18) $1.00, 5 years and under free.
Group rates (more than 15 in number):
educational $.75 bus driver and teacher free;
organized group $1.50, bus driver and group leader free.
Visitors Center/Exhibits
Information Center, Gift Shop, Museum, Exhibits on Guale Indians, European Power Conflict (1720's), Building of Fort King George, Fort King George Garrison, Highlanders of Darien and Sawmill/Rafting Period Exhibit.
Programs, Activities
Living history program for all groups. Cannon firings on select weekends (crew and weather permitting), nature walks, canoe excursions, special programs and reenactments throughout the year.
Lodging and Camping Facilities
None on site. A variety of camping and lodging facilities available in the area.
Reservations/Permits
Reservations for all groups should be made at least two weeks in advance.
Special Events/Programs
March - Spring Encampment
April - Darien in Flames
July - Cannons Across the Marsh; Fort King George 1721-1727
October - The Fort by Candlelight
November - Fall Encampment
Communities and Related Links