Part of our in-depth series exploring Southern Early American Forts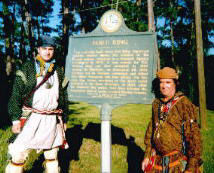 Fort King was a major Seminole Indian War Fort in pioneer Florida. Established in 1827 it was garrisoned off and on from 1827 to 1829 and then reoccupied in 1832. In 1835 Major Francis Dade and 108 men were massacred on way from Fort Brooke (Tampa) to Fort King along the Fort King Road. (This attack enraged the country however, it was short lived overshadowed, one month later, by an event called "The Alamo").
The Fort King Road was once an old Indian trail and now is basically SR301. Dec 28th 1835, General Wiley S. Thompson was killed along with others just as they left the gates of the Fort by Osceola and his men. His scalp was divided among the attackers as trophies. The post was abandoned burned in 1836. In 1837 it was reoccupied and reconstructed. The Fort was finally abandoned in 1843 and in 1846 the General Land Office sold the materials to the locals for building materials.
Directions
Take I-75 to CR40 (Silver Springs Blvd.) and go east. Fort King Street parallels Silver Springs Blvd. The fort site is just past the intersection of 36th Ave. and Fort King Street. While you are there, check out Silver Springs.
Nothing remains on the surface. There is a marker and an adjacent park.
Communities and Related Links