Part of our in-depth series exploring Southern Early American Forts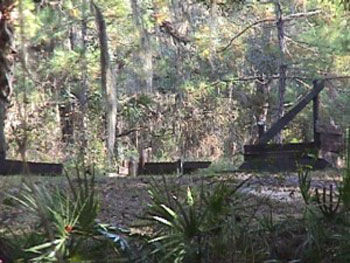 Paynes Creek Historic State Park
888 Lake Branch Road
Bowling Green, FL 33834
Phone: 863-375-4717
Park Manager: Jackson Mosley
Here, you can walk in the footsteps of pioneer soldiers and Seminoles alike. If you listen closely you can almost hear the reverberation of the cannon being fired by the soldiers as they defend Fort Chokonikla against attacking renegades. You can visit the site where the old Trading Post stood; it was here that the infamous massacre of 1849 took place. Or, you can take a leisurely walk down to the banks of Paynes Creek and enjoy the solitude found there.
Our visitor center provides an insight to the Florida frontier life of the 1850's and our picnic area with modern playground equipment offers the perfect setting for a family gathering.
Hours of Operation
The park is open daily from 8:00 a.m. until sunset. After-hour passes are available by contacting the park.
Driving Directions
Take U.S. 17 to Bowling Green and follow the signs at Main Street east to Lake Branch Road and the park.
Park Fees
Admission Fees - Honor $3.00 per vehicle for up to 8 people
Pedestrians, Bicyclists, Extra Passengers, Passengers In Vehicles With Holder of Annual Individual Entrance Permit, Members of Organized Groups - Admission Fee $2.00
Pavilion Fee
Pavilions may be reserved (inquire).
The Visitor Center is available on a limited basis (inquire)
Communities and Related Links