Points of Interest
Stone Fort Museum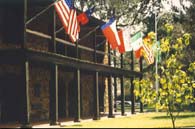 Located on the SFA campus, The Stone Fort has two exhibits on display. One is permanent and covers the history of the Y'Barbo Stone House. The other exhibit changes. For information on what is currently on display, call (936) 468-2408.
Museum hours are 9 a.m. to 5 p.m. Tuesday through Saturday; and, 1 p.m. to 5 p.m. on Sunday. Admission is free, but donations are appreciated.
Lanana Creek Trail, Originally an Indian footpath, this 2.5-mile trail weaves through thickets of paw-paw, dogwood and scarlet blooming buckeye. The trail begins at Liberty Hall on East Main Street in historic downtown.
Lake Nacogdoches, located on Loco Bayou, 10 miles west of Nacogdoches off FM 225, this 2,200 acre lake offers a great place to catch largemouth bass, crappie and sunfish.
Millard's Crossing Historic Village, nestled among the pine trees of the oldest town in Texas is this charming reconstructed historic village which beckons visitors to imagine East Texas as it was in the 19th century. You can experience the days when water was drawn from a well, plows were pushed by hand, pump organs filled churches with music and children wrote with turkey quill pens. Visitors of all ages will enjoy touring the broad sampling of early East Texas homes furnished with antiques and collectibles from all over the world. Located on U.S. 59 North. Tours Monday through Saturday, 9 a.m. to 4 p.m.; Sunday, 1 to 4 p.m. Admission. Phone: 936-564-6631.
Oak Grove Cemetery is one of the most famous cemeteries in Texas. Not because of its age -- the first marked grave is dated 1837 -- but because its the final resting place for a number of legendary Texans, including four signers of the Texas Declaration of Independence.
Old University Building, built in 1845, it is the only original building of a university chartered by the Republic of Texas still standing. Located at 515 N. Mound. Hours Tuesday through Friday, 1 to 4 p.m.; Saturday, 10 a.m. to 4 p.m.; and Sunday 1 to 4 p.m. Free Admission. Phone: 936-569-7292.
Ruby M. Mize Azalea Garden, Texas' largest azalea garden is situated in a 50-year old Loblolly Pine forest, the 8-acre garden features 5,000 azaleas, 200 camellias and 180 varieties of Japanese Maple. The garden is located south of the SFA Johnson Coliseum on University Drive. During azalea season (late March/early April), beauty abounds in Nacogdoches. Enjoy more than 20 miles of azaleas, dogwoods and spring flowers during the annual Azalea Trails. Call 888-OLDEST-TOWN for more information.
SFA Mast Arboretum, the first arboretum at a university in Texas, this on-campus garden spills over 19 acres and lies on a portion of the Lanana Creek Trail.
SFA Interpretive Trail, two trails spanning three miles take visitors into some of the most dynamic and scenic areas of the Angelina National Forest. Some 150 species of birds and 80 species of butterflies may be seen. Travel west on State Highway 7 to FM 2782 (about 6-7 miles from Loop 224 in Nacogdoches); turn south (left) and drive about 2.5 miles to entrance of the Experimental Forest.
Sterne-Hoya House, built by a prominent leader of the Texas Revolution in 1830. Sam Houston was baptized here. Located at 211 S. Lanana Street in historic downtown. Hours Monday through Saturday, 9 a.m. to Noon and 2 p.m. to 5 p.m. Free admission. Phone: 936-560-5426.
Self Guided Walking Tour ,visit 15 points of interest in the downtown historic district. Brochures available at the Visitors' Center, 200 E. Main Street in historic downtown. Guided tours are offered each Saturday during the months of April and October from the Visitors' Center located on the square in historic downtown.
Theater, Art & Music, Nacogdoches boasts an active fine arts community with frequent performances and exhibitions. Call 888-OLDEST-TOWN for a complete listing of upcoming events.
Accommodations
Comfort Inn, 3400 South Street, 936-569-8100
Holiday Inn Express Hotel & Suites, 3807 South Street, 936-564-0100
The Fredonia, 200 N. Fredonia, 936-564-1234, 800-594-5323
Best Western Inn of Nacogdoches, 3428 South Street, 936-560-4900, 800-528-1234
Best Western Northpark, 4809 N.W. Stallings Drive, 936-560-1906, 866-560-1906
Days Inn, 2724 North Street, 936-715-0005, 800-329-7466
EconoLodge Nacogdoches, 2020 N.W. Loop 224, 936-569-0880, 800-553-2666
La Quinta, 3215 South Street, 936-560-5453, 800-531-5900
Victorian Inn & Suites, 3612 North Street, 936-560-6038, 800-935-0676
Anderson Point, 650 South Lakeview Dr., 936-569-7445, you won't want to leave this lovely two-story, French-style home surrounded by 300 feet of lake frontage. Enjoy sweeping views of the water from every room and a double verandah for dining and dozing. You can stroll around the beautiful grounds or go fishing off the pier. Don't miss the glorious sunsets as you gather in the fireplace sitting room for coffee or conversation. A breakfast pantry will be available every morning.
Brooks Cypress House, 321 Old Tyler Rd., 936-559-0006, if you enjoy the sounds of nature and the smell of fresh pines, then this is the place for you! The Brooks Cypress House, built in 1949, is a nine room bed and breakfast that sits on 22 acres of land. When residing at the Brooks Cypress, you can enjoy the quietness of Deep East Texas without interruption. Each room at the house is equipped with its own air condition unit (which allows you to have complete control of the climate), cable television, and much more. So for those of you who have a special day approaching let the Brooks Cypress Bed and Breakfast make all your dreams magical.
Fair Breeze Cabin, the Gate House at Fair Breeze is a Bed and Breakfast Cabin located on old Spanish Bluff Road bordering Bonaldo Creek in Historic Nacogdoches County. Rustic in nature, the cabin is surrounded by Walnut trees and overlooks a pastoral view of forty six acres. The quiet setting offers a peaceful retreat to guests who desire to escape to the country for a relaxing weekend. Although "old timey" in ambiance the 20'x20' cabin does offer modern day amenities such as a queen size bed, fold out futon, jacuzzi, shower, TV VCR, CD player, and a kitchenette complete with refrigerator, stove-top oven, microwave, and a coffee maker. Complimentary breakfast includes eggs, bacon, juice, milk, biscuits, cinnamon rolls, and coffee.
Haden Edwards Inn, 106 N. Lanana, 936-559-5595, the Haden Edwards Inn is named after the first "EMPRESARIO" of Texas and the leader of the great Fredonia Rebellion of 1826, which later paved the way for Texas Independence. The Inn was remodeled prior to the 1890's by the famous German architect Dietrich Rulfs. The Inn is located within walking distance of downtown Nacogdoches and several historic sites, including Oak Grove Cemetery where Haden Edwards is buried. The present Inn has been completely restored with all modern conveniences including Central Heat and Air, Private Baths, Ceiling Fans, Central Fire Alarm System and a Security System. A full home made buffet breakfast is served in the main dining room from 7 to 9 a.m. Guests may eat in the dining room or may fill a tray and eat in the privacy of their own room or on the porches.
Hardeman Guest House, 316 N. Church, 936-569-1947, the Hardeman Guest House, listed on the National Register of Historic Places, offers the hospitality of an era of graciousness. Antiques and reproductions enhanced by the owner's collections promote a homey atmosphere of comfort and relaxation. Guests are invited to sit and visit, watch television in the living room, browse through the bookshelves, stroll two blocks to the downtown square for shopping or tour the Old Nacogdoches University Building on Washington Square. Business travelers find it a welcome change from hotels and motels. All rooms feature king size beds, private baths and cable television.
Llano Grande Plantation, 433 Phillips Rd., 936-569-1249, a 600-acres working tree farm nestled deep in the Piney Woods of East Texas. Enjoy peaceful, serene surroundings, walk in the woods and visit each of the three historic Landmark homes. The John M. Sparks House is a Texas State Historic Landmark. The Tol Barett House is on the National Register of Historic Places in addition to being a Texas State Landmark. And the Rosewild home is also a Texas State Historic Landmark. Each of the homes have been restored by hand with a great deal of love and attention to detail. Their charming interiors and beautiful surrounds have been featured in a number of national magazines.
Mound Street Bed & Breakfast, 408 N. Mound, 936-569-2211, 800-247-1687, is a graceful two-story Victorian home built in 1899 and is located two blocks from the quaint brick streets and antique shopping of downtown; one block from the Fredonia Hotel and Convention Center; adjacent to the famous Caddo Indian mound; and close to Stephen F. Austin State University. Mound Street Bed and Breakfast offers you a multitude of activities. The expansive living room and parlor invite visitors to enjoy the collection of clocks and antiques that are held within. For breakfast, guests may enjoy each other's company in the dining room or take a tray to the sun porch or their room, whichever they prefer.

Pine Creek Lodge, 341 PineCreek Road, 936-560-6282, 888-714-1414, family owned and operated since 1992, our specialties are personal service and attention to detail. Our biggest asset is our guests. Guest rooms are beautifully appointed and exceptionally clean. All rooms have a private bath, TV/VCR, personal refrigerator, and monogrammed robes. Most rooms have king size beds. Some rooms have private hot tubs or jacuzzis, including Honeymoon Cottages with fireplaces and beautiful pedestal beds. Some rooms have private decks. Large decks wrap around two of our buildings with swings and rocking chairs for your pleasure. There are three common rooms and a dining room that seats up to 40 people. These rooms also serve for groups and business meetings.
Stag Leap Retreat, 2219 FM 2782, 936-560-0766, a 200-acre woodland, Stag Leap overlooks the deep Bonaldo Creek and has miles of lush nature trails winding throughout. A golf cart is provided for your enjoyment of nature's beauty. A TV, VCR, and movies are provided in each cabin. Antlers Log Cabin: 3 guest rooms with 3 private baths, large airy living room/meeting room, wrap-around porches, full kitchen and gas grill, sun room, picturesque wooded setting overlooking creek, lovely English country decor, sleeps up to 20. Private. Great for retreats, reunions and meetings. Stag Leap Guest House: Loft bedroom (sleeps 4) overlooking downstairs living room, glassed on upper deck and creekside for splended views, full kitchen, charcoal grill, hunter green & pine decor, private and wooded. You get the entire cabin, 1 bath, phone and stereo. Doe Stowey: A private cottage surrounded by tall hickory trees, has ten-foot ceilings, fully equipped kitchen, bath with jacuzzi garden tub, bedroom with king size bed, sitting area and a gas log fireplace. Tall windows open to a covered porch and wrap-around deck with a charcoal grill and patio accommodations. Sleeps 2 or 4. A very romantic setting. Bucks Head Cabin is a wonderful addition to Stag Leap Retreat. This beautiful cabin features a king size bed, fireplace, jacuzzi, shower and TV/VCR. French doors lead out on to a private patio. For absolute privacy see the newest addition to Stag Leap Retreat. Deer Haven is a spacious storybook bungalow that has two bedrooms, two baths, woodburning fireplace, sunny living room, full kitchen and much more.
The Jones House,141 North Church Street, 936-559-1487, nestled in the heart of historic downtown Nacogdoches, the Roland Jones House offers a charming way to experience the grandeur of a bygone era. Experience the charm and elegance of staying overnight in one of our three exquisite guest rooms. Each room is furnished with antiques, four poster beds, individual thermostats, cable television and private baths which add to your comfort. We pamper our guest with fresh flowers in each room. Start your morning with juice and gourmet coffee served in the upstairs hall. Breakfast is served downstairs in the dining room from 7 a.m. to 9 a.m. Treat yourself to a wonderful experience. The house is available for luncheons, teas, dinner parties, club meetings, weddings, receptions, showers and tours.
The Stepan Inn Guest Suites, 418 North Mound, 936-560-9511, 800-441-3704, located in historical Washington Square just a lazy stroll from the brick streets of downtown Nacogdoches.

Camp Tonkawa Springs RV Park, 936-564-8888. From Hwy 259 North of Nacogdoches, turn east on County Road 1087. Go 4.5 miles. Turn right (south) on County Road 153. Entrance 100 yards. Electricity, water, sewer, tent camping, recreation hall, pavilion, swimming.
Piney Woods RV Park, 936-560-1287. Located at 5001 NW Stallings Drive (Loop 224). 100 hook-ups, electricity, water, sewer, dump station, bath house, tent camping.
RV Lake Park, 936-564-8551. Located at 4405 South Street (one mile south of Loop 224). 22 hook-ups, electricity, water, sewer, dump station, lakefront.

Shirley Creek Marina, 936-854-2233. Located at Hwy 103 and FM 226 on Lake Sam Rayburn. 100 hook-ups, electricity, water, sewer, dump station, bath house, tent camping and boat rental.

Trailer Village Camper Park, 936-564-0540. Located on Hwy 59 six miles North of Hwy 259 & 59 intersection. 21 hook-ups, electricity, water, sewer, dump station, bath house, tent camping, laundry.

Twin Oaks RV, 936-560-5207. Located on Highway 59 six miles North of Hwy 259 & 59 intersection. 23 hook-ups, electricity, water, sewer, bath house.

Village Park, 936-564-6099 or 936-564-5338. Located 2.2 miles North of Hwy 259 & 59 intersection. 24 hook-ups, electricity, water, sewer, dump station, bath house.
West Lake Landing: Located on FM 225, 9.9 miles from Loop 224, on the left. 2/10 mi. from west Lake Nacogdoches, West Park. Electricity, water, sanitary disposal, onsite drive-thru mini market, boat storage facility. BBQ restaurant now open (The 'Hickery' Pit BBQ). Wilderness camping available in the near future.