Part of our in-depth series exploring the forts of Apacheria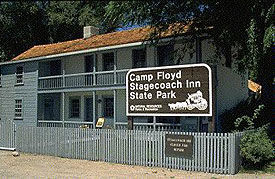 Camp Floyd
P.O. Box 446
Riverton, Utah 84065-0446
(801) 768-8932
Camp Floyd / Stagecoach Inn State Park and Museum is Utah's link with the Civil War. The quiet streets of Fairfield hold the secrets of 3,500 troops, nearly one-third of the entire U.S. Army at that time, who were brought to Camp Floyd to suppress the rumored rebellion in Utah. Used as a strategy by both the Northern and Southern States, Camp Floyd and the Utah War was an attempt to divert the nation's attention from the issue of states rights and slavery, to the Mormon problem and polygamy. The names of those who participated in the Utah campaign, read like a "who's who" of Civil War Generals, including Johnston, Buford, Reynolds, Bee, Heth, and others.
This former military post quartered the largest troop concentration in the United States from 1858 to 1861. About 400 buildings housed the 3,500 troops sent West to suppress an assumed Mormon rebellion. The troops returned East in 1861 for Civil War duty. Only a cemetery and commissary building remain as silent evidence of turbulent Camp Floyd.
Nearby Stagecoach Inn was an overnight stop on the historic overland stage and Pony Express route. The two-story adobe and frame hotel has been restored with original period furnishings. The park is located in the town of Fairfield, Utah 25 miles southwest of Lehi on State Route 73.
Hours
Open Monday-Saturday (9am - 5pm) during winter (Labor Day - Memorial Day). Open Monday-Sunday (9am - 5pm) during summer (Memorial Day - Labor Day). Closed for Thanksgiving, Christmas Day, and New Year's Day.
Fees
Day visit: $3 per person or $10 per family
State Park Details
Directions: The Inn is 25 miles southwest of Lehi on State Route 73.
Distance from Salt Lake: 46.9 miles, 1 hour 6 minutes.
Communities and Related Links