About ten days after the killing of James H. Sewell, James Bradberry and son, James Bradberry, Jr., Bob Nixon, John Bradberry, Allan Bradberry, Charlie Waggoner, Black Burt, Willse Robbins, Bill Moore, and perhaps two or three others, followed an Indian's trail and overtook the savages on Gentry's Creek, about fifteen miles northeast of Junction. James Bradberry, Sr. hurried up and dismounted. But it seems the others failed to join him. In a short time he was killed. His sons, as well as others, fought the Indians back as well as possible. But they were finally forced to retreat and ran about three miles before they overtook the others.

While fighting Indians along the frontier, it was nearly always fatal for one man to rush ahead and dismount, and the others fail to follow. Four or five well-armed men could almost invariably whip twenty or thirty Indians when they stood their ground and peppered the bullets thick and fast.

Note: Before writing this and the preceding section, author interviewed: Bob Nixon, who was along when James Bradberry was killed; J.F. Milligan and one or two others who then lived in that section.
The above story is from the book, The West Texas Frontier, by Joseph Carroll McConnell.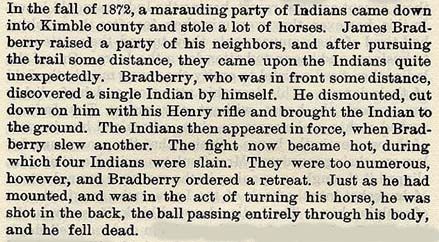 The above story is from the book Indian Depredations in Texas by J.W. Wilbarger.