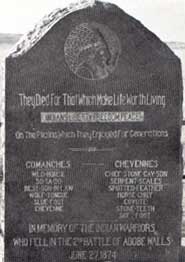 In early June of 1874, Plains tribes, including Quahida Comanche, usually reluctant to come near the reservation, took that risk and conferred with the leaders of the reservation's tribes. Knowledge of increased buffalo hunting caused great concern among the Indians. A charismatic medicine man, named Ish-Ta-Ma, claimed he could make the warriors bullet proof and that his bowel movements would provide rifle cartridges. These ridiculous claims were taken to heart by the desperate Plains Tribes who were outraged by the new tactic of the United States encouraging the decimation of the buffalo herds.

Ish-Ta-Ma and family
Emboldened by Ish-Ta-Ma's prophesies, the combined tribes of Southern Cheyenne, Comanche and Kiowa, near one thousand strong, advanced towards Adobe Walls before daylight in what should have been an easy route. Fate was not in their favor. A beam inside of the camp cracked at approximately 4:00 a.m. awakening several of the inhabitants, most of whom had passed out after an extensive drinking session. Nature's beckoning drew two men outside. As they relieved themselves, they became aware of the presence of the Indians. Armed with Sharp 50's the awakened camp successfully held off five to eight raids of the combined Indian attack force.

Quanah Parker
Present and assuming leadership for the first time was Quanah Parker. Quanah's mother was Cynthia Ann Parker, a white captive, his father Nocona, a Comanche chief. Because of his mixed-blood, and despite the rank of his father, he had been slow to gain the recognition he desired. That day he made his reputation through multiple valiant charges at the door of the fort. Several times he was injured and several of his mounts were shot from under him.

Picture of Adobe Walls Monument from the book,
Encyclopedia of Indian Wars, by Gregory F. Michno.
The effective range of the Sharp 50 was well beyond a mile. This fact was unknown to the Comanche. A chief said, "white man shoots today, red man dies tomorrow" after a warrior had been knocked off his horse by a round fired from the distance walls. The combined tribes considered further assault of the walls too costly and voted a retreat.