Fort Morgan
Alabama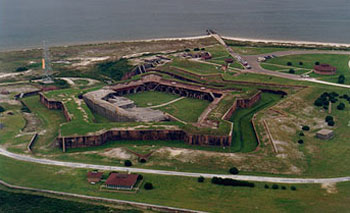 Physical Address
Fort Morgan
51 Hwy. 180W
Gulf Shores, AL 36542
Mailing Address
Fort Morgan
110 Hwy. 180W
Gulf Shores, AL 36542
Phone: 251-540-5257
Fax: 251-540-7665
The construction began 1819. The fort was completed in 1834. This large brick fort saw service in Civil War, Spanish-American War and First and Second World Wars. On-site museum details fort's history.
Payment Information
Admission: Admission Charged
Accepted: Personal Checks, Travelers Checks
Discounts: Senior, Group
Details & Description
Operation Schedule
Fort open Nov. 1–Mar. 31 8–5, Apr. 1–Oct. 31 8–7; museum year-round 9–5.
Communities and Related Links