| | |
| --- | --- |
| Fort Hall | |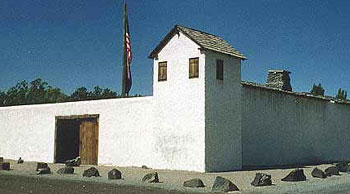 Fort Hall Replica
3002 Alvord Loop
Upper Level Ross Park
Pocatello, Idaho 83201

Fort Hall Replica Commission
City of Pocatello
Parks and Recreation
922 N. 7th Ave.
Pocatello, Idaho 83201
History
Fort Hall was an important stop for the emigrants in the trail's early years. Yet few who passed through this fort knew the strange reason it was built.
Nathaniel Wyeth began with a grand moneymaking scheme. He and 70 men planned to haul supplies to the 1832 fur trappers rendezvous, reap huge profits, then push west to the Columbia River, where they hoped to set up a fishery and export salmon to Hawaii and New England.
From the beginning almost nothing went right. After months of travel, Wyeth arrived at the rendezvous, but no one would buy his goods. Frustrated and disillusioned, his last ditch plan was to build a fort nearby. Its purpose: to serve as a base of operations to get rid of Wyeth's excess supplies by selling them to nearby tribes and trappers.
When Fort Hall was completed in 1834, it stood as the only American outpost in the entire Oregon country.
But the fort did not stay American very long. Wyeth's other ventures failed, and by 1837, he had sold the fort to the huge Hudson's Bay Company. The British flag now flew over Fort Hall. And the British made a point of discouraging the American pioneers from traveling on to Oregon. It was a subterfuge that worked for a few years at least.
Directions
Fort Hall Replica at the upper level of Ross Park, Pocatello, Idaho.
On interstate 15 South, Take Exit 67 (South 5th Exit) to 5th Avenue and turn going North toward the City of Pocatello. About 200 yards past where 4th Street and 5th Street unite as 5th Avenue. Turn left to 4th Street and you are along Terrill Ifft Park, First paved road on right and go up on top of Lava Cliffs, then turn right about 200 yards down Alvord Loop. You will be at the entrance to the Fort Hall Replica.
Hours
April 13 to May 27, Tuesday through Saturday, 10:00 am to 2:00 pm
May 28 to Sept 6, Seven days a week, 10:00 am to 6:00 pm
Sept. 7 to Sept 30, Seven days a week, 10:00 am to 2:00 pm
Fees
Adult: $2.25, Youth: $1.75 (13-17), Child: $1.00 (5-11) , School Tours: $.25 per person.
Telephone
During open hours: (208) 234-1795
During other times: (208) 234-6237
Climate, Recommended Clothing
Summer: sunny and usually hot to warm; high-low 92-62 degrees F.; wear shorts, T-shirt, hat, and sunscreen. Winter: cloudy and cold; high-low 40-20 degrees F.; wear coat and hat.
Communities and Related Links