| | |
| --- | --- |
| Fort de Chartres | |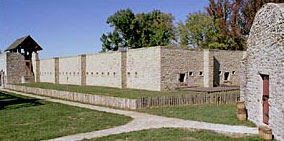 Fort de Chartres State Historic Site
1260 State Highway 155
Prairie du Rocher, IL 62277
For more than a century beginning in 1673, France claimed the Illinois Country, an undefined area that extended from lakes Michigan and Superior to the Ohio and Missouri rivers. French leaders hoped that the Illinois Country, which was governed from distant Canada, would be a rich source of furs and precious metals. To better exploit those riches, the French in 1718 reorganized the administration of their American possessions. The Illinois Country was removed from Canadian jurisdiction and made a part of Louisiana. Government of the vast territory was turned over to the Company of the Indies, a commercial enterprise chartered by King Louis XV. The company's power was considerable; it was granted a trade monopoly, given jurisdiction over all forts, posts, and garrisons and empowered to appoint all officials. In December 1718 the newly organized government at New Orleans sent a contingent of army officers, government officials, company employees, mining engineers, workmen, and soldiers to establish civil government in the Illinois Country. French leaders also hoped that a military presence would pacify the Fox Indians, whose frequent attacks put great pressure on French villages. Workmen soon began constructing a wooden fort on the Mississippi River eighteen miles north of Kaskaskia.
French officials named their stockade Fort de Chartres in honor of Louis duc de Chartres, son of the regent of France. The fort was completed in 1720. More
Hours
Closed on the following holidays: New Years Day, Martin Luther King Day, President's Day, Columbus Day, General Election Day, Veterans Day, Thanksgiving, and Christmas.
9:00 a.m. - 5:00 p.m. Wednesday thru Sunday
They are scheduled to once again be open 7 days a week starting Memorial Day, 2006.
Communities and Related Links