Part of our in-depth series exploring Southern Early American Forts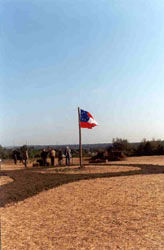 The 11 acres comprising the Mayfield Earthwork Fort is situated between the Buckhall and Russia Branch tributaries of the Occoquan River, its strategic high ground and water resources made its occupation advantageous. Native Americans occupied the site as far back as 3,700 - 2,500 BC. Prehistoric artifacts uncovered on the site reflect a hunter/gatherer culture with extensive migration and trading connections.
European settlement began in 1740 when the land was patented to Peter Hamrick (or Hambrick) and became known as "Mayfield." In 1779 it was sold to Robert Hawson Hooe. The Hooes were an established Virginia family of considerable wealth and a long history of settlement in the lower Potomac region. The Hooe family shaped Mayfield into a bustling operation featuring a stone house, a sizeable number of support buildings.

In 1861, the Hooe family was forced to abandoned Mayfield temporarily, as Confederate soldiers under the command of Gen. Beauregard undertook the work to defend the vital railroad lines at Manassas Junction. During May and June 1861, Beauregard coordinated the construction of a ring of 12 defensive fortifications around the junction of the Orange & Alexandria Railroad and the Military Railroad to Centreville.
The construction was performed under the direction of Col. G. H. Terret, a Confederate engineer, using conscript slave labor and local troops. The forts were constructed of earth reinforced with log revetments, and were armed with naval guns that had been captured from the Norfolk Navy Yard.
Confederate troops occupied the fort between June 1861 and March 1862. When the rebels withdrew to aide in the defense of Richmond, Union troops sporadically occupied the fort from March 1862 to November 1864.

During this occupation the fort site was characterized by large expanses of bare earth and grass. Soldier huts or tents appeared to be located in or nearby the fort. Archeological investigation indicated the fort featured embrasured parapet walls, a southern entrance, and three interior structures.

Today the site features eight Civil War Trail interpretive markers, the stone markers for the foundation of the Hooe mansion site Mayfield, the earthen remainder of the Civil War earthwork fortification, and a replica of the Quaker guns left by the Confederates to mask the removal of their artillery as part of their withdrawal to defend Richmond. The site is a frequent location of living history events to mark the anniversaries of the Battles of First and Second Manassas (See Torch Light Tours of Mayfield Fort under Fairs, Festivals, and Events).

Mayfield Fort is located at 8401 Quarry Road and is open from sunrise to sunset daily. The site is free to the public. For more information about Mayfield Fort, call the Museum Office at (703) 368-1873.
Communities and Related Links