Part of our in-depth series exploring the forts of Apacheria

Fort Verde
The historical site of Fort Verde State Park attracts tourists wishing to learn about life on the frontier. The site was the primary base for General Crook's U.S. Army scouts and soldiers. They were charged with squelching Apache and Yavapi Indian uprisings in the late 1800's. Some of the original buildings still stand today. On this site in April 1873, Tonto Apache Chief Chalipun, with 300 of his followers in attendance, officially surrendered to General George Crook. The fort's museum, located in the old headquarters building, exhibits artifacts that explain the history and methods of frontier soldiering.
Modern day historians in period clothing, bring the for to life. The bugle still sounds loudly to call the officer of the day. The three Officer's Quarters are furnished to allow visitors to see what life was like in an isolated frontier military post. The Administration Building is now a museum filled with uniforms and weapons that served the soldiers every day on the post. Fort Verde is the best surviving assembly of Indian Wars era military architecture in Arizona.
In addition to the historic buildings and museum, park facilities include picnic tables and restrooms. The restrooms are handicapped accessible.
Recreational opportunities offered consist mainly exploring this historic site and attending special programs. Additionally a picnic area is available.
The climate of Arizona varies greatly with elevation. Southern Arizona and the low elevations experience a desert climate. Although Fort Verde State Park has an elevation of approximately 3,100 ft., during the summer months expect very hot temperatures with afternoon thunderstorms possible especially in July and August. Daytime high temperatures can exceed 100 degrees. Winter brings moderate temperatures to the low elevations, with warm days and cool to cold nights. Winter is a good time to experience these normally snow free areas. Fall and spring are transitional periods and can also be nice times to visit the region. Be prepared for cool temperatures at higher elevations and dress in layers for your travels in this state of varying climates.
Fort Verde State Historic Park is located in central Arizona between Phoenix and Flagstaff. The park is in the town of Camp Verde, 3 miles east of Interstate 17.
The following picture and story is from the book, Encyclopedia of American Indian Wars, by Jerry Keenan.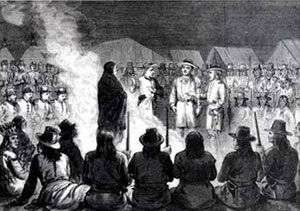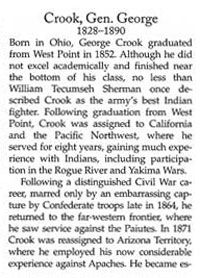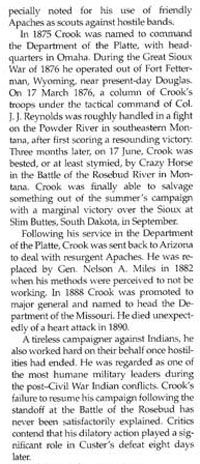 Communities and Related Links