Part of our in-depth series exploring the forts of Comancheria

Fort Reno Visitor Center
7107 W. Cheyenne St.
El Reno, OK 73036
Phone: 405-262-3987
Fax: 405-422-4917
[email protected]
Hours of Operation
Monday - Friday 10:00 a.m. to 5:00 p.m.
Saturday - Sunday 10:00 a.m. to 4:00 p.m.
Closed Easter Sunday, Thanksgiving Day through Sunday, Christmas Eve through New Years Day.
Historic Interpreters provide guests with information on the site. Visitor Center has display of historic artifacts, photographs and historic re-enactments on video for guests to view.
Sales at the Visitor Center include books and written materials on Fort Reno and select western themes, post cards, cavalry-infantry-Indian Scout pins and hat cords, Historic Fort Reno pens and pencils.
Fort Reno, established as a military camp in 1874, became a permanent military fort or post in 1875 and construction of buildings began in 1876. The Fort and Darlington Agency, which served the Cheyenne and Arapaho Tribes across the Canadian River, together preserved the peace and directed the orderly transition of this part of Indian Territory from reservation to individual farms and ranches. Troops from Fort Reno supervised the first great Land Run of 1889 that opened lands for settlement. The Fort also served as one of two remount depots from 1908 through 1947 when the lands were transferred to the United States Department of Agriculture for an agricultural research station.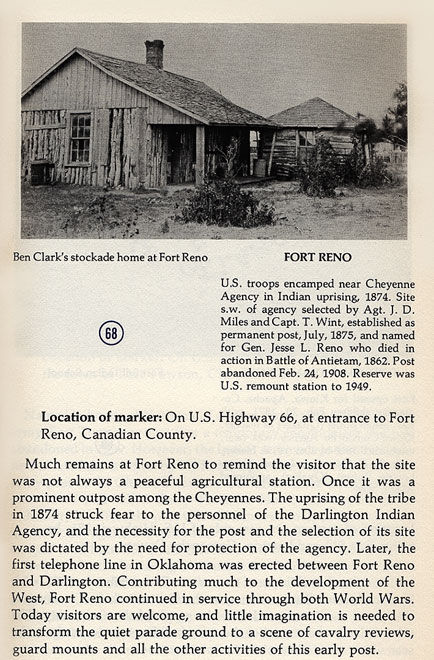 The above information is from the book, Mark of Heritage, by Muriel H. Wright, courtesy of Oklahoma Historical Society.
Communities and Related Links