Part of our in-depth series exploring the forts of Comancheria

Fort Mason: 1 mile north of Mason at juncture US 377 and US 87
Reconstruction of the officer's quarters stands atop Post Hill, which can be reached from downtown via Post Hill Street. A number of crumbling foundations still show some sites of 23 original buildings that included barracks, officers' quarters, storehouses, stables, guardhouse and hospital. The reconstructed building is on original foundations; double fireplace foundations are original, and rock used was from original building materials of fort.
This fort was situated near a spring long used by Indians; built of stone. The fort was constructed in 1851 on Post Hill, and commanded a panoramic view to the north. Living conditions at the fort were relatively comfortable, with a dependable supply of fresh vegetables from its spring-watered garden. In Mason, about five blocks south of the Mason County Courthouse, at the end of Post Hill Street. Little is left of Fort Mason now, except for a marker and one reconstructed officer's quarters built on original foundations. However, it was once a key post in the chain of forts protecting the frontier, with 23 permanent buildings. It was also Robert E. Lee's last field command as an officer in the United States Army.
A few years after Texas' statehood, the U.S. built a more westerly chain of forts anchored on the north by Fort Belknap and the south by Fort Mason. Jefferson Davis was the U.S. Secretary of War in the early 1850s. He served in the Indian wars in Texas and was well aware of the successes enjoyed by the fast-moving, hard-hitting, far-reaching Ranger patrols and he intended to use his new forts in a similar fashion. He persuaded Congress to authorize a cavalry unit. This was not without some difficulty, cavalry costs three times as much as infantry. Northern congressmen rightfully feared the assignments would go to officers from southern states.

Colonel Albert Sidney Johnston
Picture from the book, Savage Frontier II, by Stephen L. Moore
Former Republic of Texas Secretary of War, Colonel Albert Sidney Johnston was given the command and the officers were allowed to select their own sergeants and requisition mounts from the thoroughbred stables in Kentucky. Each troop had its own color of horse.
In December of 1855, Colonel Johnston, accompanied by his wife, led seven hundred fifty men south from Missouri. They reached the Red River during a ferocious norther. A hunger-crazed cougar repeatedly attacked the horses on picket during the night. When they arrived at Fort Belknap, the Brazos was frozen six inches deep. There wasn't sufficient housing for all the arriving officers and their wives, therefore all the newcomers including the Johnstons, resided in tents. Part of the Second moved on into Fort Mason. Between and west of these two posts, patrols were mounted. They constantly crisscrossed Indian country Ranger-style, searching out and destroying Comanche camps and engaging war parties where they could be found.

Photo of a reconstructed stone officer's house taken by Charles M. Robinson, III from the book, Frontier Forts of Texas.

Robert E. Lee led a surveying team out of Fort Mason until he took command of Camp Cooper, which was attached to the Comanche reservation, west of Fort Belknap. Lee returned to Fort Mason in 1860 and spent his final year in the U.S. Army before returning to Virginia at the outbreak of the Civil War. John Bell Hood led troops in battles against the Comanche on the Pecos and achieved some of the greatest United States' victories during that time.
Mrs. Wilson Hey's first-hand account of a Christmas Ball at Fort Mason, from the book, Texas, The Dark Corner of the Confederacy, by B.P. Gallaway: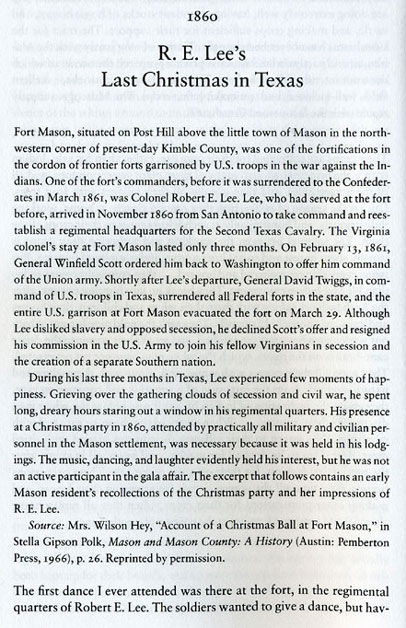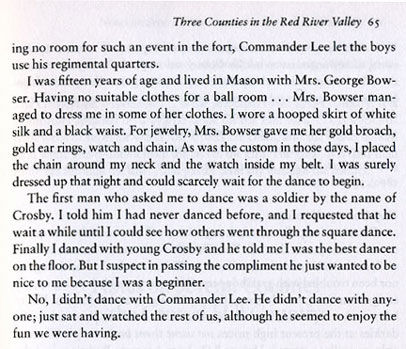 Communities and Related Links