Part of our in-depth series exploring the forts of Comancheria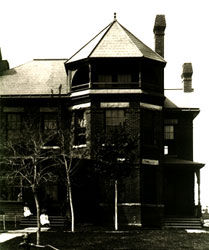 Friends of Historic Fort Logan
P.O. Box 36011
3742 West Princeton Circle
Denver, CO 80236
The Friends of Historic Fort Logan organized as a nonprofit corporation on January 17, 1990 to work with CMHI at Fort Logan to preserve some of the historic buildings and to promote interest in the history of the fort and the community around it. Plans include restoration of the Field Officer's quarters to its original 1889 appearance. The Denver City council designated the building as a historic landmark on November 19, 1990, and the house is listed on the State Register of Historic Properties. Educational exhibits and programs are available for schools and community groups.
Interior restoration of the Field Officer's Quarters began with upgrading of the electrical system by the generous donation of time and materials by members of the International Brotherhood of Electrical Workers (IBEW) and electrical contractors. With grants from the State Historical Fund, other foundations, private contributions and donated professional services, exterior renovation included restoration of all the windows and much of the wood trim together with tuck-pointing bricks and repairing chimney caps. Interior restoration of the first floor is almost complete with refinishing of woodwork and installation of period wallpaper in some of the rooms. Plans for educational and interpretive exhibits are under way.
House Museum is open on the third Saturday of the month, between 1-4 p.m. Admission is $5.00.
Communities and Related Links