Part of our in-depth series exploring Southern Early American Forts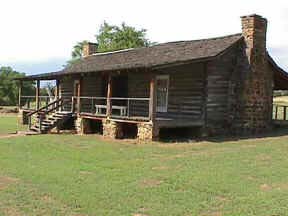 Fort Gibson
P.O. Box 457
Fort Gibson, OK 74434
Phone: 918-478-4088
Fort Gibson Historic Site encompasses the site of one of the most important forts of the American frontier. For a period of nearly 60 years, the policies of America's westward expansion were carried out by troops stationed at Fort Gibson.
Visitation
Highest in May through August; lowest in January and February.
Location
Fort Gibson, OK
Operating Hours
Winter Hours: 10:00 a.m. to 5:00 p.m., Thursday-Sunday
Daily, 9:00 a.m. to 5:00 p.m., Sunday 1:00 p.m. to 5:00 p.m. Closed New Year's Day, Easter, Thanksgiving, and Christmas.
Climate, Recommended Clothing
Summers are hot and humid. Winters are mild with periodic rain or snow. Wear comfortable clothing with walking shoes.
Directions
Fort Gibson Historic Site is located on Garrison Avenue between Hazen and Coppinger streets in Fort Gibson. The Stockade complex is located at the intersection of Lee and Ash. It can be reached from U. S. 62 by turning north on Hwy. 80 (Lee St.) and following it through the Town of Fort Gibson.
Rates
Adults $3.00, Seniors 65 & up, $2.50, Students 6 to 18, $1.00, Children 5 and under, free.
Facilities and Opportunities
Visitor Center/Exhibits
The Visitor Center is located in the Commissary building. Currently, the exhibits feature exhibits on the development of the fort, and its role in the resettlement of the Eastern Tribes, the Civil War, and the restoration of the fort.
Trails, Roads
Maintained trails lead visitors through the site.
Programs/Activities
Programs vary through the year. Contact the site for further information.
Lodging and Camping Facilities
Not available in the park. A wide variety of motels and hotels are available in the area.
Food/Supplies
Not available in the park. Restaurants and grocery stores are available in the city.
Accessibility
Most park facilities are accessible to persons with mobility challenges. If you require assistance, please notify park staff.
Special Needs
Parking is available, including parking for buses, in the site's parking lot.
Reservations/Permits
Reservations are necessary only for school groups or tour groups.
Special Events/Programs
Various events, including encampments, special tours, and temporary exhibits are presented throughout the year.
Communities and Related Links