Part of our in-depth series exploring Southern Early American Forts

Fort Duffield Heritage Committee
16706 Abbott's Beach Road
West Point, Kentucky 40177
Phone: 502-922-4574
Fax: 502-922-4574
E-mail: [email protected]
This fort is an earthwork structure that traverses the top of the heights overlooking the rivers. The earthworks are approximately 20 to 30 feet high and run some 1000 feet along Pearman Hill. (According to a letter by Capt. Charles V. DeLand, 9th Michigan Vol. Inf., the distance from the top of the wall to the bottom of the ditch was 17 feet. The top of the wall was 9 feet wide.) Time has eroded the walls to today's height and thickness which is still impressive.
The original design of the fort is a serpentine wall, open on the Ohio River or north side which was intended to protect against an invasion from the South. The fort was named for the commander of the 9th Michigan Infantry Colonel William W. Duffield. It is generally believed that Fort Duffield is the oldest Union Civil War fortification in Kentucky. It is certainly the most unique. As a rule the other forts in the state tend to be "star or home plate shaped" enclosures, Ft. Duffield is more of a wall and is not enclosed. Ft. Duffield is one of many fortifications in Kentucky that were constructed to defend cities, railroads, rivers and other key points in the Bluegrass state. Many of these structures still exist and even though most of them never fired a shot in anger they are still an important part of our Civil War heritage.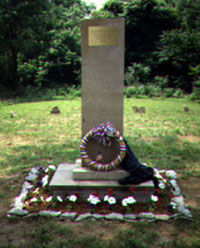 Monument erected at Fort Duffield in 1993
Currently the Fort Duffield Heritage Committee is working in West Point to preserve and protect Ft. Duffield. The group has worked diligently and they have gotten the fort listed in the National Register of Historic Places. They now have a self-guided walking tour of the fort included some interpretive signage.
An archaeological investigation funded in part by the Kentucky Heritage Council with state and federal funds from the National Park Service, Department of the Interior, was conducted in the fall of 1997. Technical Report No. 418 was by the Program for Archaeological Research, Department of Anthropology, University details the findings of this investigation.
Admission
None
Location
US 31W (Dixie Hwy) at Salt River Drive in West Point, KY
7.5 miles South of the Gene Snyder Freeway (Hwy 841)
9 miles North of Fort Knox Main entrance
Hours
Fort Duffield park is open daily year round 9 a.m. until dark.
Civil War Days at Fort Duffield is held each Memorial Day weekend with living history events on Sunday and Memorial Day services at old Fort Duffield Cemetery on Monday.
A second living history event takes place on Labor Day Monday annually.
Communities and Related Links