Part of our in-depth series exploring Southern Early American Forts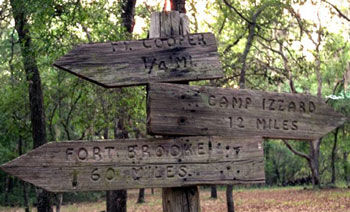 Fort Cooper State Park
3100 South Old Floral City Road
Inverness, Florida 34450
Phone: 352-726-0315
Park Manager: Harry Mitchell
Fort Cooper State Park's nature trails still offer some of Citrus County's best birding and wildlife viewing.
Lake Holathlikaha is the heart of Fort Cooper State Park. Spring-fed and crystal-clear, the 160 acre lake lured battle-weary volunteers to its banks in 1836, where they built and defended a frontier fort. Today, it charms thousands of visitors each year with its unique blend of beauty and history.
Hours of Operation
We are open from 8 a.m. until sundown 365 days a year.
Driving Directions
Fort Cooper State Park is located just off US 41, on South Old Floral City Road, two miles south of Inverness.
Park Fees
The fee to get into the park is $3.00 per vehicle up to eight people and $2.00 per pedestrian and bicyclist.
Camping - Primitive tent camping fee, $5.00 plus tax person per night. Reservation are required.
Non-profit affiliated group camping fees are $5.00 per adult per night and $1.00 per child (6 -17 yrs. old) per night. Must have at least 6 people to qualify for this price and be tax exempt.
Picnic Pavilion Fee - $40.00 + tax per day.
Recreation Hall Fee - $100.00 + tax per day.
Paddle Boat/ Canoe Fee - $5.00 per hour. When water level of lake and weather permits.
With building rentals, there is a $3.00 per vehicle fee
Communities and Related Links