Part of our in-depth series exploring the Mountain Pacific Forts
Fort Bridger Historical Association
P.O. Box 112
Ft. Bridger, WY 82933
History
"I have established a small fort, with a blacksmith shop and a supply of iron in the road of the emigrants on Black Fork of Green River, which promises fairly..."
Thus spoke Jim Bridger in a letter he dictated to would-be suppliers in 1843. While that small fort only lasted a little more than a decade, Bridger's words did prove to be prophetic. Not only did the location he established promise fairly," it proved to be one of the main hubs of westward expansion: from mountain men and Indians to emigrants and Mormon pioneers, to the U.S. Army, the Pony Express, the Overland Stage and the Union Pacific Railroad. If it happened in the opening of the American West, it affected, or was affected by, Fort Bridger.
Established by Jim Bridger and Louis Vasquez in 1843 as an emigrant supply stop along the Oregon Trail, it was obtained by the Mormons in the early 1850s, and then became a military outpost in 1858. In spite of temporary times of abandonment during the Civil War and then again during the late 1870s, Fort Bridger remained U.S. Government property until 1890. After the post was abandoned, many of the buildings constructed by the army were sold at public auction and moved off of the fort grounds to become private homes, barns, bunkhouses and the like. For a time, the buildings that remained were allowed to fall into disrepair. But after a period of neglect, various groups and individuals took interest in preserving and restoring what remained of old Fort Bridger. In 1933 the property was dedicated as a Wyoming Historical Landmark and Museum.
Today, Fort Bridger is a state historic site and administered by Wyoming State Parks & Historic Sites, Division of Parks & Cultural Resources, Wyoming Department of State Parks & Cultural Resources.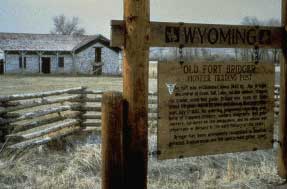 Travel Directions & Park Overview
Fort Bridger State Historic Site sits three miles off Interstate 80, exit #34, approximately 30 mile east of Evanston, Wyoming. The snow capped Uinta Mountains are visible to the south and a channel of the blacks Fork River flows through the 38 acre site. At 6,675 feet above sea level, the nights are always cool and day time temperatures are rarely uncomfortably hot. In the vicinity are three R.V. campgrounds and two motels. There are several restored historical buildings from the military time period, a reconstruction of the trading post operated by Jim Bridger, and an interpretive archaeological site containing the base of the cobble rock wall built by the Mormons during their occupation of the Fort. All of these locations are signed in Braille. In addition, a museum containing artifacts from the various different historical time periods is housed in the 1888 stone barracks building. There are gift shops in both museums and the reconstructed trading post-both of which accept major credit cards.
Accommodations & Camping
There is no camping available at Fort Bridger. The nearest State Park location to camp is Sinks Canyon State Park
Annual Events
Easter Egg Hunt Held the Saturday before Easter, Sponsored by the Lions Club
Lyman Elementary History Fair Project Winners Display during May
Memorial Day Flag Raising Ceremony, presented by the VFW, Fort Bridger staff and volunteers
Living History Program June through Labor Day
Wednesday night Lectures Mid June through mid August. Free Sponsored by the Fort Bridger Historical Association.
Dedication of New Buildings restored with a TEAL grant. May 31, 1 p.m.
Annual Mountain Man Rendezvous Held on Labor Day Weekend Aug. 29 thru Sept. 1, Sponsored by the Fort Bridger Rendezvous Association
Moonlight Tours of Fort Sponsored by three Fort Bridger Historical Association on Saturday, July 12.
Site Ground & Museum Hours
Site Grounds
Open year round 8 a.m. To sunset, daily
Museum
April 9 a.m. - 4:30 p.m. Weekends
May 1-Sept. 30: 9 a.m. - 5:30 p.m. Daily
Oct. 9 a.m. - 4:30 p.m. Weekends
Nov. 1 - Mar. 31: Closed
Bridger/Vasquez Trading Co.
May 1-Sept. 30: 9 a.m. - 5:00 p.m. Daily
Oct. 1-April 30: Closed
Site Rules
No alcohol.
No horses.
No firearms or fireworks.
No overnight camping.
No bicycles on footpaths or grass.
No throwing of objects such as Frisbees, balls, horseshoes, rocks, etc.
No open fires. Cooking fires in grills only.
Pets must be on leash.
All special events must be approved and require a 30 day advance permit. Contact site office for details.
Tours
Guided tours of the buildings are available daily for a nominal fee from June 1 until just before the Labor Day Weekend. Sponsored by the Fort Bridger Historical Association.
Communities and Related Links