Part of our in-depth series exploring the Mountain Pacific Forts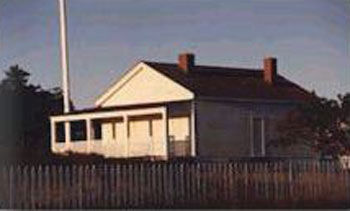 San Juan Island National Historic Park
P.O. Box 429
Friday Harbor, WA 98250
(360) 378-2902
For it was here in 1859 that the United States and Great Britain nearly went to war over a pig shot by an American farmer. Actually, it was a bit more complicated than that. Pressures had been building between the two nations over possession of the San Juan Island group since 1846 when the Treaty of Oregon left ownership unclear. Thus came the "Pig War" crisis, at the height of which more than 500 U.S. Army soldiers and three British warships were nose to nose on the island's southern shore, not 10 miles from Victoria, BC. Fortunately, officials on both sides quickly restored calm and the nations agreed to a joint military occupation of the island until the boundary could be decided. The American soldiers and British Royal Marines remained for 12 years until Kaiser Wilhelm I of Germany, as arbitrator, awarded the islands to the United States. Today the park is an excellent place to hike, picnic, play on the beach, experience wildlife and enjoy a wealth of programming, including the summer living history events.
Operating Hours & Seasons
Grounds at American and English camps are open from dawn to 11 p.m., throughout the year. Visitor Center hours are variable by season. Winter (September-May): American Camp, 8:30 a.m.-4:30 p.m., Thursday-Sunday; Friday Harbor, 8:30 a.m.-4:30 p.m., Monday-Friday. Summer (June-September): American Camp, 8:30 a.m.-5 p.m., daily; English Camp, 9 a.m.-5 p.m., daily; and Friday Harbor, 8:30 a.m.-5 p.m., Monday-Friday.
Getting There
Plane
To Friday Harbor via Northwest Seaplanes; Kenmore Air; or West Isle Air.
Car
Washington State Ferries by private vehicle; car rental in Friday Harbor.
Bus
Bellair Seatac Airporter shuttle offers regularly scheduled service from Seattle-Tacoma International Airport to the Washington State Ferries terminal in Anacortes.
Public Transportation
Shuttle buses stop at both camps daily during the summer season with an abbreviated schedule during spring and fall. Contact San Juan Transit (360) 378-8887.
Getting Around
Ranger-guided and self-guided walking tours only.
Communities and Related Links