Comancheria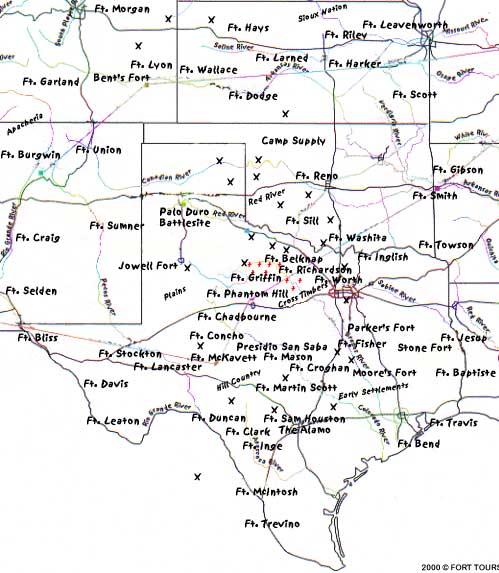 Click on the forts for information about visiting hours and services provided by local communities. Click on the cross swords (X) for accounts of some of the most important battles on the Comancheria. Click on the names written at an angle for road trips.
The Comanche called themselves "The People." Others usually referred to them as their enemies, "Those who always fight us." A single generation of warriors at the turn of the eighteenth century managed to acquire and master not just the horse, but the art of horse raising and more importantly, horseback fighting. The Comanche Nation held the center of this map and dominated, virtually owned, everything and body around it.
The Texas pioneers' war with the Comanches began in 1836 at the dawn of Texas' Republic and the Victorian Age. Troopers and Rangers alike adorned sabers and adopted the manners and valiantry of ancient European knights. In the Cross Timbers, the knights were usually cowboys riding patrol, dividing their time between Ranger and ranch duties. Their heroic exploits and courtly behavior were the germ of the modern American cowboy myth. Their struggle is still replayed and celebrated with the advent of each new western.