Part of our in-depth series exploring the forts of Apacheria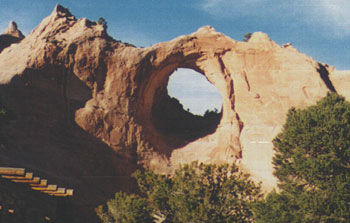 P.O. Box 2520
Window Rock, AZ
(928)871-6647
Guided Tours Available - call in advance (928)871-6417
Window Rock is the administrative capitol of the Navajo Nation, getting its name from the hole in the 200 foot high sandstone hill (Window Rock) located there. Located about 27 miles northwest of Gallup, N.M., and about 6 miles southeast of Fort Defiance, Arizona, it is just across the New Mexico-Arizona state line, on the Arizona side, in Apache County. Window Rock contains the Navajo Nation Council House, the Navajo Nation Museum, and Window Rock Fairgrounds where the Navajo Nation Fair (Widow Rock Fair) is annually held.
This park near the Navajo Nation Administration Center features the graceful redstone arch for which the capital is named. The Navajo Nation headquarters and other government offices were built in close proximity to this mystical rock formation.
More recently, the Navajo Nation has built a Veterans Memorial at the base of Window Rock to honor the many Navajos who served in the U.S. military. Many Navajo soldiers are recognized in the annals of history for their role as Code Talkers, whereby they used the Navajo language to create a code that was never broken by the enemy. Historians credit the Navajo Code Talkers for helping to win World War II.
The park has many symbolic structures: a circular path outlining the four cardinal directions, 16 angled steel pillars with the names of war veterans, and a healing sanctuary that is used for reflection and solitude that features a fountain made of sandstone.
Near the monument is the Navajo Nation Council Chambers, where the 88 council delegates discuss critical issues and enact legislation to determine the future paths of the Navajo. The circular Council Chambers features walls adorned with colorful murals depicting the history of the Navajo Nation and the Navajo way of life.
Hours
Open Daily 8:00 a.m. - 5:00 p.m.
Communities and Related Links