Part of our in-depth series exploring Southern Early American Forts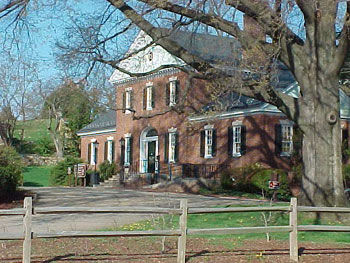 Fredericksburg, Chancellorsville, Wilderness, and Spotsylvania—this is the bloodiest landscape in North America. No place more vividly reflects the Civil War's tragic cost, in all its forms. A city bombarded, bloodied, and looted. Farms large and small ruined. Refugees by the thousands forced to the countryside. More than 85,000 men wounded; 15,000 killed—most now in graves unknown. The fading scars of battle, the homeplaces of bygone families, and the granite tributes to those who fought still mark these lands. These places reveal the trials of a community and nation at war—a roiling cataclysm, a virtuous tragedy that freed four million Americans and reunited a nation.
Operating Hours & Seasons
The grounds are open daily from sunrise to sunset. Fredericksburg Battlefield Visitor Center, Chancellorsville Visitor Center and Chatham Manor open 9-5 year round. Jackson Shrine open daily in summer, open Friday-Tuesday in the Spring and Fall, open Saturday-Monday in the Winter. Closed Thanksgiving, Christmas Day and New Year's Day.
Getting There
Plane
The neartest airports are Washington-Dulles, Washington-National and Richmond.
Car
Fredericksburg is located 50 miles south of Washington and 50 miles north of Richmond. The park contains numerous areas on both sides of I-95 in the Fredericksburg area.
Public Transportation
Fredericksburg is served by Amtrak train service and by commuter rail service from Washington.
Getting Around
Driving tour routes link important battle areas on all four battlefields. Numerous walking trails traverse the historic ground.
Visitors are encouraged to start their tour at the Fredericksburg Battlefield Visitor Center. For those persons travelling to Fredericksburg from the north or south, Fredericksburg is located midway between Washington, D.C., and Richmond, Virginia, on Interstate 95. It is approximately 50 miles distant from both cities. Be aware that there are other visitor centers in the area and know ahead of time which one you are looking for. The state of Virginia operates a Welcome Center on I-95, just south of the Rappahannock River. Spotsylvania County operates a visitor center adjacent to an outlet shopping mall near the Massaponax exit from I-95. The Fredericksburg Bicentennial Visitor Center is located on Caroline Street in downtown Fredericksburg.
Fredericksburg can be a very difficult city to get around. Please follow the directions given below and look for directional signs to the Fredericksburg Battlefield Visitor Center. Visitors headed south on I-95, take the Route 3 east exit. Drive east approximately 2 miles until you reach a traffic light at the intersection of Route 3 (also called the Blue and Gray Parkway) with Business Route 1 (also called Lafayette Blvd.). Turn left and drive approximately 1/2 mile to the Fredericksburg Battlefield Visitor Center which is on the left. Driving north on I-95, take the Fredericksburg exit. Drive about 1 mile on U.S. 1 (also called Jefferson Davis Highway) to a traffic light where US 1 splits. Bear right on Business Route 1, Lafayette Blvd. Drive about 4 miles to the visitor center which is on the left.
To reach the Chancellorsville Visitor Center from Interstate 95 take the Route 3 west exit, #130, and proceed approximately seven miles. The visitor center is on the right, north, side of the highway. People wanting to tour the Wilderness or Spotsylvania Battlefields should begin their visit at either of the Park visitor centers where they can pay the entrance fee and get oriented to the battlefield. There are no visitor centers at Wilderness Battlefield or Spotsylvania Battlefield, but historians do man the exhibit shelters on Fridays - Mondays during the Summer season and on weekends during much of the Spring and Fall season.
In addition to auto travel, all major U.S. airlines operate to and from Washington National, Dulles International, and Richmond International airports. Various shuttle services can transport individuals to Fredericksburg from these terminals, or automobiles may be rented. Daily train service via Amtrak may also be used to reach downtown Fredericksburg.
Communities and Related Links