Part of our in-depth series exploring Southern Early American Forts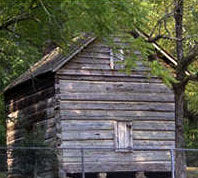 Fort Yargo State Park
P.O. Box 764
Winder, GA
When Fort Yargo was built, this area was on the outskirts of Georgia's frontier, and actually inside Indian Territory.
The western push of settlers from the Georgia coast had slowed during the Revolutionary War, but not long after the war ended, settlers once again began to encroach on Creek land. Near the Creek town of Snodon settlers created tiny Jug Handle, essentially a tavern and inn at the intersection of a heavily traveled north-south Indian Trading Path and an east-west trading route.
To protect the settlers from the Creek Indians, Fort Yargo was built in 1792 by a Virginia settler living in the present-day Jefferson area, Captain Joseph Humphries, who is noted as a county clerk, justice of the peace, and inferior court judge. There were no Cherokee towns in this vicinity as it is several miles from the Creek-Cherokee border.
Park Information
Included in the Fort Yargo historical site is the Will-a-way Recreation Area, which actually covers most of the 1,800 acres of land the park encompasses. It is built around the centerpiece 260-acre man-made lake, created by damming Marburg Creek and its tributaries. There are 40 general camping sites, 7 "walk-in" sites for people who are willing to pack in their food, tents and bedding, tennis courts and both pioneer and group camping shelters.
There is an easy hiking trail around the lake fishing is allowed as there are two boat ramps.
Directions
Take I-85 north to Exit 106, Route 316, and go east for 18 miles. Turn left on GA. 81. Continue north for 1 mile to historic marker on right. Turn right on Carson Wages Rd. Parking on left-hand side.
Will-a-way Recreation Area
Follow directions to Old Fort Yargo, but continue north for 3 miles. Entrance to the park is on the right.
Fort Yargo State Park 770-867-3489
Will-a-way Recreation Area 770-867-6123
Toll-free reservation line 800-864-7275
Fees: Small fee charged to enter park, overnight camping charges
Communities and Related Links