Part of our in-depth series exploring the forts of Comancheria

Directions
Located approximately 20 miles south of Greeley right on U.S. Highway 85 two miles south of Platteville, CO. It is listed in the National Register of Historic Places and is administered by the Colorado Historical Society. Make sure and visit the museum located on the site.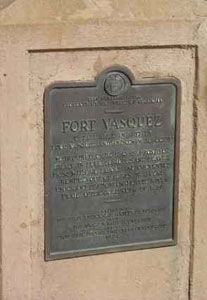 Hours
The museum winter hours are: Labor Day to Memorial Day 10am-4pm Monday-Sunday. Summer 9:30 a.m. - 4:30 p.m. Monday-Saturday and 1 p.m. - 4:30 p.m. Sunday.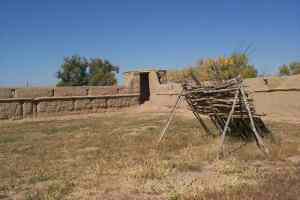 Remains
The fort walls and common area.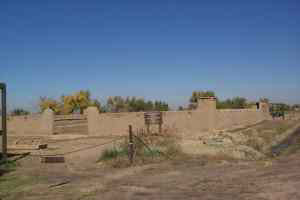 History
In 1835 fur-traders Louis Vasquez and Andrew Sublett built the fort along the South Platte River for the Rocky Mountain Fur Company with a license to trade with the Cheyenne and Arapahoe Indians. The fort was stategically located between Fort Larimie, to the north and Bent's Fort to the south, along the Trapper's Trail. When the price and demand for beaver pelts declined the business desolved in 1842 and was sold to the firm Locke and Randolph, who abandoned it in 1842. Foundations and a few feet of the exterior walls were all that remained by 1932. In 1934 the owners of the Fort Vasquez Ranch, Pearl Perdiew and Ethel Hoffman deeded an acre of land surrounding the fort to the Weld County Commissioners. In 1935-36, WPA crews rebuilt the walls from existing bricks on the location. Features include the rebuilt fort with guard towers, firing ledges and portals based on the best information available. Between 1968-70, CSU students excavated more than 4,000 artifacts. Their work established the original dimensions of the fort - 100' X 98.5' and located the true foundations for the interior walls and fireplaces.
Communities and Related Links