Part of our in-depth series exploring Southern Early American Forts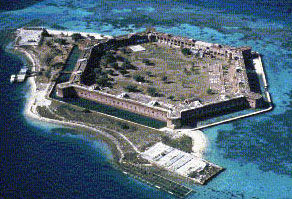 Almost 70 miles (112.9 km) west of Key West lies a cluster of seven islands, composed of coral reefs and sand, called the Dry Tortugas. Along with the surrounding shoals and waters, they make up Dry Tortugas National Park. The area is known for its famous bird and marine life, and its legends of pirates and sunken gold. Fort Jefferson, one of the largest coastal forts ever built, is a central feature.
The Tortugas were first discoverd by Ponce de Leon in 1513. Abundant sea turtles or "tortugas" provisioned his ships with fresh meat, but there was no fresh water-the tortugas were dry. Since the days of Spanish exploration, the reefs and shoals of the Dry Tortugas have been a serious hazard to navigation and the site of hundreds of shipwrecks.
U.S. military attention was drawn to the keys in the early 1800's due to their strategic location in the Florida Straits. Plans were made for a massive fortress and construction began in 1846, but the fort was never completed. The invention of the rifled cannon made it obsolete. As the military value of Fort Jefferson waned, its pristine reefs, abundant sea life and impressive numbers of birds grew in value. In 1935, President Franklin Roosevelt set aside Fort Jefferson and the surrounding waters as a national monument. The area was redesignated as Dry Tortugas National Park in 1992 to protect both the historical and natural features.
Operating Hours & Seasons
The park is open all year.
Ft. Jefferson on Garden Key is open during daylight hours; closed at dark.
Loggerhead, East and Middle Keys are open year-round during daylight hours.
Bush Key is closed to visitors February through September to protect nesting Sooty and Noddy Terns.
Hospital and Long Keys are closed all year.
Getting There
Plane
Commercial air service is available to Key West International Airport.
Seaplanes of Key West provides air service from Key West to the national park. See Public Transportation below for seaplane information.
Car
There are no roads to Dry Tortugas National Park. It can only be reached by boat or seaplane.
Private pleasure boats are welcome, but must be fully self-sufficient. U.S. Coast Guard and Geodetic Survey Chart #11438 is necessary for navigation to the Dry Tortugas.
Public Transportation
Public transportation - ferry and seaplane - serves the park from Key West.
For ferry schedules, prices, and reservations, contact: Sunny Days: phone 800-236-7937 or 305-292-6100; on the internet at www.drytortugas.com. Yankee Fleet: phone 800-634-0939 or 305-294-7009; on the internet at www.yankeefleet.com.
Seaplane transportation is provided by Seaplanes of Key West. For schedules, prices, and reservations, contact 800-950-2FLY or 305-294-0709; on the internet at www.seaplanesof keywest.com.
Fishing and dive charters can be arranged in the Florida Keys and Naples. For a list of services, contact the park at 305-242-7700.
Getting Around
Upon arrival, see the orientation program at the visitor center in Fort Jefferson and take the self-guiding tour of the fort.
A boat is necessary to visit areas of the park other than Garden Key/Fort Jefferson.
Communities and Related Links